Why an Entourage is a Key Investment for Retirement
As you age, you may need more and more people to help keep you going, financially, physically and in other ways.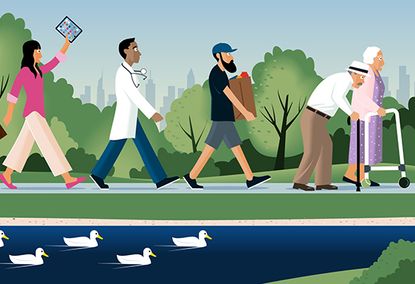 (Image credit: John Tomac)
In their seventies, Leah and Allan Lipman lived an idyllic retired life. Summers in their longtime Buffalo, N.Y., home, winters in Boynton Beach, Fla. They drove back and forth, and relied on various services and individuals to care for their lawn and home repairs. They kept up with doctor visits and enjoyed swimming and socializing with friends over card games. Allan, a former lawyer, managed all the finances and correspondences. "They were staunchly independent," their daughter Joan Green recalls.
By their early eighties, they were paying someone to drive them to and from Florida. Their children supported them during medical procedures — which became more frequent. Knee replacement. Pacemaker. Leah's arthritis began to make cooking more difficult. The couple moved to a Rockville, Md., apartment to be near their daughter, who helped with rides and errands. They found a housekeeper for light cleaning.
Then, Allan had a stroke, leading to gradual cognitive decline. He brought in a personal trainer weekly to help him exercise. Driving became too much. Green installed Uber on their phones, but they had trouble navigating the technology and communicating with drivers because of hearing loss.
Subscribe to Kiplinger's Personal Finance
Be a smarter, better informed investor.
Save up to 74%
Sign up for Kiplinger's Free E-Newsletters
Profit and prosper with the best of expert advice on investing, taxes, retirement, personal finance and more - straight to your e-mail.
Profit and prosper with the best of expert advice - straight to your e-mail.
Eventually, they moved together into an assisted living community. If one has a medical issue and needs to move temporarily to a higher level of care, the other is nearby and can still visit. They both have been in and out of skilled nursing care.
"It's a whole continuum of care so that if one ended up in skilled care, the other could go on the scooter and visit down the hall," says Green, whose business, Innovative Speech Therapy, helps seniors navigate technology.
If it takes a village to raise a child, it can take a small town to support an aging adult. As we get older, the range of professionals and services we rely on for physical, financial and daily living support expands and shifts. The physical therapist and geriatrician, the grocery service and home maintenance workers — they are your entourage as you age.
"There are different people that come in and out of your life. Real longevity planning is planning not just for the stages and people you will need, but the services you will need to survive and thrive for one-third of your adult life," says Joseph Coughlin, director of the Massachusetts Institute of Technology Age Lab and author of The Longevity Economy, a study of the aging population and how it is transforming society.
The word "retirement" condenses several stages of later life. Over that time, the people in your entourage and the support you need will vary. Initially, you may depend on the vinyasa yoga instructor to work up a sweat and keep you limber, but that changes to chair yoga. The zumba class may give way to water aerobics.
Why you need an entourage
Too often, says Coughlin, planning for retirement and old age focuses just on health and ignores the other important aspects of older life. There are the people who help you look and feel good, others who may deliver groceries, while others may introduce you to exciting new cuisines. "How to plan, how to integrate and put these things into place, is the new frontier of longevity planning, not simply retirement planning," he says.
You can't anticipate all of the services and individuals you'll rely on through the years, but it pays to think about them earlier rather than later.
"In their fifties, people should start to create a list of the services that they would need, the people who will deliver those services, who's going to be their advocate if something happens to them, and who is going to manage and be their representative," says Colin Milner, chief executive officer of the International Council on Active Aging. "We have a habit of waiting and not planning for our physical capabilities to be diminished. Start today to create your plan."
The Lipmans are fortunate to have a caring daughter nearby, but the lower birth rate combined with increasing longevity means that many older adults will be less likely to have a family member available to give rides, help with tasks around the home, and offer other support, says Caroline Clapp, senior principal at the National Investment Center for Seniors Housing and Care, a research and advocacy nonprofit. About one-third of adults older than 75 have children who live more than 10 miles away. To be sure, some of those people have no relationship with their children. Nearly 17% of adults older than 55 have no living children.
One in five older adults needs help with medication, bathing, getting dressed and mobility. When thinking about how much support a typical older adult needs, consider that senior communities typically hire 2.5 people for each resident, says Clapp. Each resident receives about 3.2 hours of care each day.
"There are going to be more and more seniors that are going to need help, and we have fewer caregivers," says Clapp. "How do we provide the people who can actually take care of this?"
Sue Smith, 67, and her husband are the primary caregivers for her mother, Macie Lewis, 89, of Lakeland, Fla. Lewis has dementia and needs help with meals, bathing, medication management, dressing and mobility. A paid caregiver from Senior Helpers, which specializes in in-home senior care, comes in twice a week. "As time has progressed," says Smith, "we've realized we need more outside sources that might be available."
Who's in your entourage?
The people and services who support you fall into nine buckets: health care, home care, personal care, food, fitness, fun, transportation, finances and communication. In the early phases of retirement, you may be hiring people or using services for convenience, but as you require more day-to-day help, that becomes a necessity.
Health care. Age is only one factor in your health care needs. Genetics play a huge role, as does your level of fitness and the lifestyle choices you make. For much of your life, you may have gotten by with just a primary care doctor, plus a gynecologist for women, possibly along with a psychiatrist or therapist for mental health care. In retirement, you'll likely add specialists such as an ophthalmologist, a dermatologist and a physical therapist. Later in life, you may develop chronic conditions that benefit from seeing a cardiologist, gastrointestinal doctor, rheumatologist, pulmonologist or oncologist. You may also need help in remembering to take daily medications.
Home care. Your lawn service. The HVAC company. A handyman for light repairs. Outside help may begin as a want, but it becomes a need for those who age in place. Indeed, less than 10% of seniors plan to move into a retirement community, according to Milner of the Council on Active Aging.
"We have to start adopting these different service providers early on," he says. "Ask, 'If I can't change my lightbulbs, who am I going to trust to come into my home to change my lightbulbs when I'm on my own and frail?' "
Mano Kanagaratnam, 86, first met Miguel Leon 20 years ago, when she hired him to repair the leaking roof of her Bethesda, Md., home. Over the years, he's fixed her fence and done other small jobs. What began as a transactional relationship deepened over the years, through the loss of Leon's wife. Kanagaratnam had lost her husband earlier.
"I trust him," Kanagaratnam says.
New services have even popped up for life transitions such as decluttering your home before you downsize. Add the clutter buster to your entourage!
Personal care. The things you take for granted at 65 — showering, lifting groceries, driving — can change as you age. The basic activities of daily living, which can trigger long-term care insurance benefits when you can no longer perform them on your own, include bathing, dressing and grooming, going to the toilet, getting into a bed or chair, feeding yourself and walking.
Mano Kanagaratnam's 66-year old daughter, Popsy, was completely independent until a hard fall broke her nose and tore her rotator cuff. While she heals from surgery, Popsy needs her mom's help to shampoo her hair or fasten a bra.
"Something simple like an accidental fall can have huge impacts on the need for resources and support," Popsy says. "If I didn't have Mom, I'd have to have people coming in."
Food. In addition to grocery shopping and meal preparation, the food category also includes cooking classes or hiring a dietician or healthy eating coach. The possibilities range from a personal shopper or chef to simply using the delivery service of your local grocery store. The expense of hiring a nutritionist may be outweighed by the benefit of enjoying your food more and dropping some weight — which will extend your years of healthy life. An obese older person might lose mobility sooner.
Fitness and wellness. Is it worth it to hire a personal trainer? Should you spring for classes at an upscale gym or make do with the exercise classes at your local community center? Do your aching muscles warrant hiring a massage therapist for a weekly rubdown? These are the kinds of decisions you make around fitness as you age. In addition, there's a lot you can do to get exercise for free, such as YouTube dance videos or picking a walkable neighborhood where you incorporate walking into your regular grocery, pharmacy or restaurant trips. Low-cost options include a subscription to Peloton or Apple Fitness+ videos.
This category also includes mental health, as well as a sense of meaning — a reason to get out of bed in the morning. You can improve both physical fitness and mental wellness if you incorporate activity into a volunteer commitment, suggests Dan Buettner, author of The Blue Zones: 9 Lessons for Living Longer. "You may be in the most luxurious retirement home in America and if you don't have this feeling that you're living a meaningful life, that you have something to contribute, that is toxic," he says.
Fun and friends. When you think of retirement, you may imagine travel and fine dining. That all costs money and requires people. Your travel consultant or group excursion provider or the maître d' at your favorite restaurant can each increase the joy in your life.
Don't overlook friends or potential friends. You can cultivate neighborhood friendships by hosting potlucks or offering to help bring packages inside. These nearby relationships can be sources of support in an emergency and as you age. "Invest in young families in your neighborhood. They will help you later," recommends MIT's Coughlin.
Transportation. Your social life can blossom and fade along with your ability to drive or navigate public transportation. As you age, your transportation options may become limited by vision, hearing or mobility challenges. When family or a paid driver takes you on errands and to doctor's visits, they're part of your entourage. Explore the public transit options in your city, which often include a lift to the subway stop for people who are mobility challenged.
Finances. Like health care, finances are top of mind when it comes to your retirement support team. You may enlist someone to manage your nest egg, whether that's an independent financial planner or the mutual fund company. An accountant, tax preparer, or H&R Block may assist you in paying Uncle Sam each April. Then there's insurance: life, home, disability, car and long-term care. And money management: At some point, you might rely on a family member or trusted adviser to manage paying bills and sorting through correspondence.
Communication and Technology. The pandemic showed us that technology is a lifeline for accessing many services and products. From DoorDash to Amazon delivery, you can have almost everything delivered to your doorstep.
"The dwelling of older people has become a remarkable control center," says Stephen Golant, a gerontology professor at the University of Florida. "You can control so much of your life without leaving the house."
However, if navigating that technology becomes overwhelming, seniors can quickly be cut off. The small buttons on phones and tablets may become frustrating. Even picking up a FaceTime video call could stump an older adult with cognitive decline, notes Joan Green, the Lipmans' daughter.
The Geek Squad or other in-person technology support services can help you fix computer or electronics bugs. Your local library may also provide tech classes and hands-on help. And many consumer electronics companies have online and telephone support. Wearable technology and sensors in your home can supplement a home aide.
To be sure, not everyone requires help. If you've taken care of yourself earlier in life, and are blessed with good genetics, you may be among the 25% of people who never need assistance.
"You have a divergence in the road. On one side you have ill health, burden, cost, family members having to take time off of work, stress in the family, the list goes on," says Active Aging Council's Milner. "The other is if you are healthier, there's less need for care, less cost, more resources available for you to spend on things like fitness instructors, nutritionists and enjoying travel and those kinds of things." The choice will either take you to the right or to the left."
The Four Phases of Old Age
About 25% of individuals older than 65 will die without having any significant limitations on their ability to care for themselves. Another 20% will experience significant difficulty with multiple activities of daily living. The rest will fall somewhere in the middle, needing support with some daily activities but maintaining independence in other areas.
Joseph Coughlin of MIT's Age Lab divides retirement into four distinct phases, each of which introduces new needs and potential service providers:
Managing ambiguity. In the first phase, you may have retired from your career but continue to work part-time, do consulting, or volunteer actively. You may travel and try out new fitness or cultural activities. Your employer can assist in retirement finances, or you may hire a financial adviser to assess your financial security and plan. If you want to start a part-time gig, a career coach could be useful. Consider engaging with your faith organization or a cause you care about to add purpose to your life.
Managing big decisions. At some point, a change in circumstances prompts the need for rethinking where you live or another aspect of your lifestyle. An injury or illness, whether it's yourself or your spouse, might cause you to think about downsizing. You might remodel your home or relocate. You'll be relying on real estate agents, contractors and apartment building managers. At the high end, some apartments will sell you a turnkey package of housekeeping and services to extend your ability to live independently.
Managing complexity. When chronic health conditions begin to catch up with you, new health care providers come into your life. You might visit a cardiologist or physical therapist regularly. The lawn care and housecleaning workers who used to be a convenience now become a crucial part of your entourage.
Living solo. The final stage, for most people, will be living alone for the better part of a decade, after the death of a spouse. This period is especially true for women, who tend to outlive their male partners. Says Coughlin: "That's where the services really come into play, for everything from taking out the trash to home care."
Noted
About one-third of adults older than 75 have children who live more than 10 miles away. Nearly 17% of adults older than 55 have no living children.
One in five older adults need help with medication, bathing, getting dressed or mobility.
Senior communities hire 2.5 people for each resident, meaning each resident receives about 3.2 hours of care per day.
The economic impact of the senior living industry outranks air transportation, auto manufacturing and the hotel and motel industries.
The spending and operations of the senior living industry directly affects the U.S. economy to the tune of $97.2 billion annually, with an indirect impact of $149.7 billion.
Sources: The U.S. Census Bureau, Argentum (a trade association) and the National Investment Center for Seniors Housing and Care
Note: This item first appeared in Kiplinger's Retirement Report, our popular monthly periodical that covers key concerns of affluent older Americans who are retired or preparing for retirement. Subscribe for retirement advice that's right on the money.
Katherine Reynolds Lewis is an award-winning journalist, speaker and author of The Good News About Bad Behavior: Why Kids Are Less Disciplined Than Ever – And What to Do About It. Her work has appeared in The Atlantic, Fortune, Medium, Mother Jones, The New York Times, Parents, Slate, USA Today, The Washington Post and Working Mother, among others. She's been an EWA Education Reporting Fellow, Fund for Investigative Journalism fellow and Logan Nonfiction Fellow at the Carey Institute for Global Good. Residencies include the Virginia Center for the Creative Arts and Ragdale. A Harvard physics graduate, Katherine previously worked as a national correspondent for Newhouse and Bloomberg News, covering everything from financial and media policy to the White House.