Time to Press the Money 'Pause Button' after the Holidays
If you overspent on the holidays, and spoiled your kids in the process, now's the time to make some changes.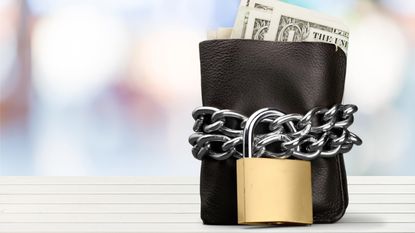 (Image credit: Getty Images)
The holidays have happened, and they may not have gone the way you envisioned. But it's the new year and it is a time of reflection and do-overs. You may want to reflect upon your holiday spending and some of the messages you sent to your kids (and yourself).
Were the holidays this year a repeat of the gift-feeding-frenzy you may have created in the past? Instead of "visions of sugar plums" dancing in your head, did you have visions of gifts being ripped open without any notice of what's inside as your kids moved on to the next present? Have those credit card bills come in yet? Ouch.
If this all sounds familiar to you, you may be asking yourself this: How do we empower our children next year to become money-savvy, non-spoiled kids?
Subscribe to Kiplinger's Personal Finance
Be a smarter, better informed investor.
Save up to 74%
Sign up for Kiplinger's Free E-Newsletters
Profit and prosper with the best of expert advice on investing, taxes, retirement, personal finance and more - straight to your e-mail.
Profit and prosper with the best of expert advice - straight to your e-mail.
Take Responsibility and Then Take Charge
We are not a victim of the holidays; we do this to ourselves. No one went into your wallet to make you overspend. It's estimated that Americans planned to spend an average of $837 (opens in new tab) on gifts this year, a little more than they spent clicking away, last year. Even so, WalletHub (opens in new tab) just reported that 30% of Americans overspent during the holidays.
Inflation is the wild card and may have caused you to put the brakes on when you started seeing the price tags. Or not. It may just indicate that your credit card debt will start to balloon in the new year.
The More Things Change the More They Stay the Same
Some time ago, Oprah had me work with a family with two kids. Every Christmas, the parents went into debt, spending over $2,500. They put the gifts on their credit cards and never managed to pay off the debt off before the next Christmas rolled around.
I put their spending in perspective, not even dealing with the cost of the debt incurred. I explained that if they had started to save that $2,500 for their kids each year and invested it with a return of 8%, by the time the kids were 18 years old, they would have had over $100,000, which was just about enough to pay for both of their kids' state college educations at that time. I didn't mean to bring the mom to tears, but I did. I thought it would empower her to stop this cycle, but her reaction was, "I refuse to ruin my kids' Christmas!"
This Year: Turn Humbug into Humble
It doesn't have to be this way. We can stop the crazy guilt-ridden spending. Now. A gift is supposed to offer a warm thought of, "I love and appreciate you." It's not, "Wow look how much I spent on you. How cool am I?" Convey this message to your kids, your family, and anyone else in your life who will listen to you — all year long.
Make a List and Check it Twice
For the coming year, set a spending limit with friends and family on all gifts. Make it about $20 per gift. There will be lots of occasions to give gifts. Make sure that you share your new "rules" with everyone. Class mothers/fathers at school will be thrilled to have a dollar gift limit. It's great to practice this during the year, so that when the holidays roll around next year, this will all seem so natural. Just make sure that thought goes into the gift.
Consider Non-Monetary Gift Chits
Be clever and set up a family challenge to create gifts that involve real caring and not necessarily money. My favorite gift when my kids were young was a "No Fighting Zone" Gift Chit. Every time they started to bicker, I presented them with my "No Fighting Zone" Gift Chit and a cease-fire followed. It worked, but the next year when I received the gift chit, it had an expiration date!
Your gift chit could be good for a massage, cooking a special meal or baking cookies, cleaning golf balls, knitting lessons or for helping to plant Grandma's herb garden next spring … you get the point. Trust me, these will be your favorite gifts to give and to receive.
Spread The Joy
Pick a charity and make sure that your kids are involved in the giving. Giving is not only about money, but also giving of your time and of your heart. When you look back at the legacy you will leave your kids, it will be not be about money but about the memories, actions and empowerment you shared to help them build their own happy and healthy life.
Finally, Go Back to Basics
One final way to help raise kids who aren't spoiled is to foster a healthy relationship with money as they grow up. I started devoting myself to teaching kids about money in the 1980s when I couldn't find any books to teach my own kids about the financial facts of life. My 3-year-old daughter was tired of schlepping from bookstore to bookstore, and finally said; "Mommy, why don't you just write the books?" So, Mommy did, and I also opened up The First Children's Bank in 1988, at FAO Schwarz, the famous toy store.
What is so rewarding today, 28 books later — including my latest, Be Money Smart in Tough Times: For Parents and Grandparents (opens in new tab) — is that lots of fabulous companies are following that lead and not only offering financial education to kids (and their parents), but also offering financial products. The key to learning is to get the kids involved.
One of the companies I selected to work with is Greenlight. (opens in new tab) It empowers kids to earn money, budget, save and invest, and manage and spend money via a Greenlight debit card, all while earning rewards for their responsible behavior. Parents get to coach kids and also look over their shoulder to make sure that they are handling their money responsibly.
"At Greenlight, we're focused on helping parents raise financially smart kids year-round. There are so many teachable moments about money that come up in our daily lives. Learning smart money habits early on and getting lots of hands-on experience are key to a healthy financial future," Tim Sheehan, CEO and co-founder of Greenlight, told me.
I totally agree with Tim, which is why my main messages are always based upon starting early. That is also the basic tenet that drives another company with which I work, called EarlyBird. (opens in new tab) EarlyBird simplifies the process for parents to kickstart their child's financial future by opening a custodial investment account for parents, grandparents, family and friends to start saving for their child when they are born. I also like the idea that you can leave video messages for the child so they can share these memories when they get older.
Caleb Frankel, COO and co-founder of EarlyBird, shared his thoughts with me: "Financial awareness and literacy are critical pieces on the journey to financial freedom. However, access, ownership and participation are required to truly invoke the change needed to support families building generational wealth."
President & CEO, Children's Financial Network Inc.
Neale Godfrey is a New York Times #1 best-selling author of 27 books, which empower families (and their kids and grandkids) to take charge of their financial lives. Godfrey started her journey with The Chase Manhattan Bank, joining as one of the first female executives, and later became president of The First Women's Bank and founder of The First Children's Bank. Neale pioneered the topic of "kids and money," which took off after her 13 appearances on "The Oprah Winfrey Show." www.nealegodfrey.com (opens in new tab)