Electric Vehicles Take Charge in 2022
A range of new battery electric vehicles is coming for Tesla. And then there's the electric Ford F-150, a landmark debut.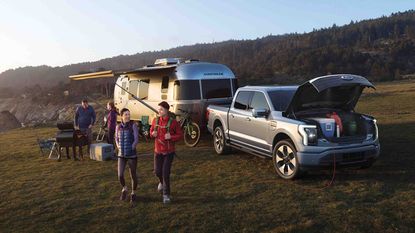 (Image credit: Courtesy Ford Motor Company)
There is widespread consensus that the future, at least when it comes to what we drive, is electric. Carmakers have been falling all over each other with promised dates by which some or all of their offerings will be electric, or at least electrified in some way. But when is that future for you? Should you buy an electric now? A number of vehicles either for sale or coming to market in 2022 promise to shake things up. They're neither tiny nor dizzyingly expensive, and they might tip the scales for some to try electric.
For the people who would rather drink battery acid than give up their internal combustion engine vehicles, you can relax. We are, as one auto observer put it, living in a "golden age of choice": Massively powerful muscle cars and electric vehicles with record-setting range and efficiency are both on the market. "People who are thinking, 'Oh boy, I better go get my gas-powered V8 car now, or else tomorrow or next year I walk'—no, that's not true," says Matt Degen, an editor at Kelley Blue Book. "Gasoline combustion vehicles are going to be with us for a while, probably even decades."
What's a Battery Electric Vehicle?
This is a good time for a note about terminology: An electric car is technically known as a battery electric vehicle (BEV), or sometimes an all-electric vehicle. That is, everything it does—move around, operate the air conditioning, play music—comes from stored battery power. There's no gasoline burned by the vehicle, period. Hybrids (think Prius) don't qualify, nor do their descendants, plug-in hybrid vehicles (PHEVs), even though some can travel significant distances using electricity alone. All of the vehicles we're looking at here are BEVs.
Subscribe to Kiplinger's Personal Finance
Be a smarter, better informed investor.
Save up to 74%
Sign up for Kiplinger's Free E-Newsletters
Profit and prosper with the best of expert advice on investing, taxes, retirement, personal finance and more - straight to your e-mail.
Profit and prosper with the best of expert advice - straight to your e-mail.
But before we get into the nitty gritty of the new EVs that are likely to satisfy expectations of "electric car," please allow us to gush for a moment about the Ford F-150 Lightning we saw at the Washington, D.C. car show this winter. This all-electric pickup truck is a watershed vehicle in many ways, but perhaps most importantly, a truck, which is the type of vehicle Americans have indicated (through sales) that they want. No surprise that it's, basically, sold out. Ford isn't taking new reservations so that it can fulfill orders for people who signed up earlier.
"It's a huge deal," says Jonathan Elfalan, director of vehicle testing for Edmunds. "Number one, the F-150 is the best-selling vehicle inAmerica. Plus, Ford is making the F-150 Lighting start at just under $40,000. And Ford is set up to produce this vehicle, in volume, in America." Notably, The New Yorker magazine recently ran a long feature on the debut of the Lightning, which, given that publication's historical lack of interest in things automotive, was perhaps a watershed moment of its own. The Lightning shares the same basic body shape as its internal-combustion peers, and where this matters most is that accessories for the cab and bed (say, a cap or a tool box) designed for the whole line will fit here, too. That it looks very similar to other Ford trucks will probably be reassuring as well. There's just enough flash (like the blocked-out grille and distinctive LED headlights) to indicate that this is something a bit different.
Go Frunking with Your Lightning
But, of course, the vehicle is loaded with electric-specific features, like 120-volt outlets (and available 240-volt outlets) that can flowserious power to tools, accessories—even your house. Some of those plugs are up front in the so-called frunk, a front storage compartment that takes advantage of the fact that an electric vehicle's powertrain is shaped differently, generally encroaching less on the front of the vehicle. The Lighting's frunk, which makes the Lightning perhaps the world's most expensive cooler, has a drain, which means that, yes, you can fill the frunk with ice and beverages and go tailgating (or is that frunking?).
This feature is also found on another Ford product, the Ford Mustang Mach-E. As with the F-150 Lightning, Ford is trading on brand recognition by applying the Mustang name to a four-door, hatchback SUV, which really doesn't share anything with the legacy internal combustion Mustang it borrowed the name from other than styling and rapid acceleration. Where the Mach-E differs from the Lightning, significantly, is that these models are actually available, right now, in dealer inventories (although you can order one to your specification, too).
The Mach-E is one of several vehicles either just on the market (see the Volkswagen ID.4) or about to arrive that are gunning for what is, let's face it, the industry standard for EVs: the SUV-scale Tesla Model Y, which was the EV that posted the most new registrations between January and October 2021, according to data from Experian. So we're sure it will warm some hearts in Dearborn, Mich., to know that Jeff Cannon, of White Plains, N.Y., cross-shopped the Mach-E against the Tesla Model Y recently and picked the Ford. "The drive of the Mustang was much more comfortable—a smoother ride than the Tesla. It also had more features than the Tesla." Another selling point for Cannon and his husband, Ed Baklor (who has a Tesla 3), was that for the Mustang, a federal tax credit was still available.
This EV tax credit is worth up to $7,500 and is available on battery electric vehicles and many plug-in hybrids. But it's an odd duck, with restrictions on both the taxpayer looking to claim it (the amount it's worth can't exceed what you owe in taxes) and the vehicle's manufacturer (once a carmaker has sold more than 200,000 eligible vehicles, the credit phases out). For a model-by-model list of credits, see https://fueleconomy.gov/feg/taxevb.shtml.
Both Tesla and GM have sold enough EVs that the federal credit is no longer available for their vehicles. Some states offer their own credits and incentives, including on the home chargers that are a necessity for EV ownership. Check out https://plugstar.com/tools/incentives for details.
Cue the New Models
Several of 2022's notable offerings are coming from Hyundai, Kia, Subaru and Toyota. Essentially, the cars are four iterations of two basic vehicles (or "platforms," to use the industry parlance), but all will have the federal tax credit available at their debut. As time passes and the brands begin to use up their credits, the shrewd shopper might be able to claim the credit by buying one of these cousin cars from the other manufacturer, but that point is unlikely to come this year.
So, the vehicle pairs: From Subaru and Toyota, we'll be getting the Subaru Solterra and the Toyota bZ4X. From Hyundai and Kia, the Ioniq 5 and the EV6. All four are SUVs that are roomier than prior, smaller electric offerings, such as the Kia Niro and Hyundai Kona Electric. But the value-conscious shopper should pay attention to what, exactly, becomes available when.
"Hyundai and Kia, because they are regular car manufacturers, understand that they need a base model, but they can also offer a premium model to compete with Tesla's Model Y directly," explains Jonathan Elfalan, director of vehicle testing for Edmunds. "So while they are bringing their premium models out first to get the early adopters to spend all their money on the most-expensive models, soon after they're going to be introducing the cheaper models with smaller batteries so that everyone has an opportunity to buy an EV."
The Ioniq 5 and the EV6 represent electric-first thinking that moves beyond these carmakers' earlier offerings, which were inhabitants of the small-and-cheap niche of the electric market of the past decade. What that means to the car shopper is that the electric bits, such as the battery and motors, have been put where they make the most sense, not adapted to a platform meant to house an internal combustion engine, a transmission and a fuel tank. You get not just better numbers for, say, range and acceleration, but also more interior space and better handling.
The Ioniq 5 and the EV6 also reflect the same-but-different relationship of their corporate parents: many shared components but decidedly different styling. Where the Kia has the expected futuristic/aggressive look of an EV, the Ioniq 5 harks back to the 1980s with design cues from Hyundai's first mass-produced car, the Pony, itself the work of famous Italian car designer Giorgetto Giugiaro. People who remember Hyundai's trouble-ridden debut in North America back in the '80s might question this association, but remember, it's just the aesthetics.
Subaru and Toyota's collaboration is significant as well for being the first mass-market electric from either brand. Toyota has been somewhat late to the EV rush, which has perplexed some, given its dominance in the hybrid market. Don't fret, says KBB's Degen. "Toyota has been, let's say, a little bit slower to get on board with all EVs. But boy, that is changing quickly. Toyota takes its time to make sure it gets things right."
The name bZ4X apparently reflects being "beyond zero" in emissions, and the 4 is an invocation of the similarly sized (and popular) RAV-4. Future Toyota electrics will build on that naming convention. Two versions of this compact EV are planned: one front-wheel drive (with a manufacturer-estimated 250 miles of range) and one with all-wheel drive (no range yet published).
The Subaru twin, the Solterra, will be all-wheel drive only, and Subaru is emphasizing its off-road capabilities, in keeping with the company's outdoorsy vibe. The Solterra will have 8.3 inches of ground clearance, and where the bZ4x's front fenders will have glossy paint, the Solterra will have matte plastic for greater scratch resistance. That will be good for pressing forward through the thorny underbrush—or the Trader's Joe's parking lot. The Solterra has a manufacturer-estimated range (it isn't yet EPA certified) of 220 miles, and we'll bet that's roughly what the all-wheel-drive bZ4X will come in with, too.
The Charging Issue
If we were writing about "regular" cars, we wouldn't wrap up with a section on where to buy fuel, right? But recharging remains the Achilles' heel of electric vehicle ownership. Progress is being made on many fronts: Longer vehicle ranges, faster charging protocols and more places to recharge are closing the gap on the dead simple process of going to the gas station. Even so, says Edmunds's Elfalan, "for most people, home charging is going to be the default solution. And by the time they become accustomed to that routine, they're never going to want to go to a gas station again. It's just too convenient to top up overnight at home."
Home charging requires some planning, though. The power needs of an electric are such that connecting to a 110-volt plug as if you were recharging, say, your leaf blower isn't going to cut it for most people. You'll likely want to have a dedicated 220-volt line, and then, hooked up to that, a recharger unit from either your carmaker or an aftermarket manufacturer.
The cost of the rechargers can range from $300 to $700. But remember, there are generous subsidies available for these. While they waited for their Tesla Y to be delivered, my next-door neighbors in a Maryland suburb of Washington, D.C., Adam and Gabby Reid, went ahead and installed a fast charger. "There's a Maryland incentive, there's a Pepco [utility] one, and there's a federal incentive, so the cost of buying and installing a charger is going to come out to zero, which is kind of incredible," says Adam.
Home charging also allows for the possibility of using your own rooftop solar panels to charge, which can potentially reduce your car's energy cost to zero. EVs also have lower maintenance costs, so, depending on how many years you own it, along with several other variables, an EV can cost you significantly less than a gas car. Research by Consumer Reports shows thousands of dollars in savings, enough in some cases to make up for EVs' generally higher up-front cost.
EVs often serve as a household's second vehicle, minimizing range concerns. But we are a road-tripping people. If you're going to leave the safety of a circle defined by your vehicle's range divided by two (and leave some margin for error, please), you're going to need to confront the public charging network. By one count, in January 2022, there were about 113,600 charging outlets in the country. But roughly one-third are in California.
Further complication: Access to the system is more or less bifurcated, with Tesla owners having access to the proprietary Supercharger network that others do not. And within the non-Tesla world, there's a range of vendors selling subscriptions (the truly thrifty can hunt out locations where charging is free). Websites and apps such as Plugshare (which are frequently built into the navigation systems of BEVs) can help, but finding a convenient, available charge can still be a hassle. The term of art for this is range anxiety.

Former Senior Online Editor
In his former role as Senior Online Editor, David edited and wrote a wide range of content for Kiplinger.com. With more than 20 years of experience with Kiplinger, David worked on numerous Kiplinger publications, including The Kiplinger Letter and Kiplinger's Personal Finance magazine. He co-hosted Your Money's Worth, Kiplinger's podcast and helped develop the Economic Forecasts feature.