Helping Loved Ones Through the Last Years
Even a financial professional can be caught unprepared when life doesn't go as planned. Here are five things I learned with my own parents … and that I wish I had known before it all started.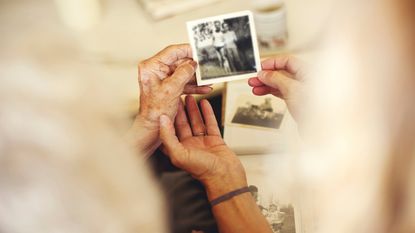 (Image credit: Getty Images)
When my parents downsized to a duplex, we thought we had their final years all figured out — finances, housing and medical care. Unfortunately, things rarely work out the way you plan them.
Within a few years of moving from our family home, my father started showing early signs of Alzheimer's. Complicating the situation, my mother had increasing mobility issues and relied entirely on a scooter and a walker to get around. Initially, we had high hopes that my father would be able to take care of her in a quasi-assisted living environment. His diagnosis and diminishing independence changed all of that.
Looking back, you see the signs. For years he loved driving to the local forest preserve to take long walks. Suddenly he would find himself lost and not be able to find where he parked. With my mother unable to stop him from doing something he loved and unable to chase after him, strangers would call her to tell her he had been found and would help him back to his car. And there were many other worrisome things happening, like him leaving the stove on, leaving the house and forgetting why, and becoming increasingly frustrated by the growing limitations of the disease.
Subscribe to Kiplinger's Personal Finance
Be a smarter, better informed investor.
Save up to 74%
Sign up for Kiplinger's Free E-Newsletters
Profit and prosper with the best of expert advice on investing, taxes, retirement, personal finance and more - straight to your e-mail.
Profit and prosper with the best of expert advice - straight to your e-mail.
Like many families in this situation, we never thought Alzheimer's would happen to us. But when it did, we all knew that the future was going to be very different from what we had imagined. We felt a frightening sense of urgency to do something, anything, to make all of us better able to handle this unplanned future.
Leaving Home Is Hard
My mother, while of sound mind and unrelenting determination, began falling frequently because of her multiple sclerosis. The 911 responders were becoming familiar visitors to their home, which only added to our worry and sense of urgency to find a safer, more permanent solution. We knew we had to begin looking for a place for them as soon as possible. But how do you find the right place? Everywhere seemed too expensive, too fancy or too far away.
And once you move them to a new town, you need a new system of doctors, as well as transportation, drugstores and a new social support system. Concerns cascaded: How do you find the right caregivers and trust that they have your parents' best interests at heart? How will you get them to the doctor once they can no longer drive?
Concerns mounted, and there were few professionals or organizations to help back then. You could search the Internet, but the options were limited.
We relied on referrals from the family doctor, friends and co-workers. Then we searched the old-fashioned way: countless phone calls and interviews of staff members of the few assisted living centers in the area. We also tapped into the local senior citizens council. Finally, we found a place in a nearby suburb that seemed like the best alternative to their duplex. But it required my father to lose his home, garden and the companionship of his beloved cat.
The move completely changed his life — literally from one day to the next. That's when his Alzheimer's symptoms significantly worsened. He went from early-stage to mid-stage within a little over three months. We were losing him fast, and it was terrifying. Before, we believed that nursing home care was at least five years away. Suddenly, it was the right here, right now.
Care Is Costly – Financially and Emotionally
Statistics say that three years is all you need in long-term care. My father was in full-time nursing care for a good solid six years. We spent almost $7,000 a month for both of my parents, $4,000 more than we had carefully planned for. I was familiar with long-term care planning, but I was not prepared for this.
But helping my father with finances was complicated. As Alzheimer's overtook him, he became paranoid about his finances. He forgot that I was an investment professional and didn't want my help. He wouldn't give me access to his investments or the bills that needed to be paid. He wouldn't let my mother help either, even though he tried to teach her a bit before the Alzheimer's progressed.
One of the most difficult options that seemed to be heading our way was taking my father to court to set up a guardianship and have him declared incompetent. The whole experience was terrifying for me. And overwhelming for my mother. Luckily, we bypassed that route. Soon, my father's diminishing awareness caused him to start caring less about his finances and maintaining control.
Expect a Role Reversal
I worried about my mother. She did a fantastic job caring for my father, but I knew she was neglecting herself. Once he passed away, focusing on her became easier. But switching the roles of parent and child is never simple.
Parents don't want to be a burden on their kids. As they age they give up control of almost everything: their finances, their health and their choices. That's hard on everyone, but especially parents who are most comfortable being the ones depended upon, and not dependent upon others.
As their child, you take it on because you love them and it's what you want to do. I felt like, "I can't begin to pay you back for what you did for me, so let me do this for you."
That doesn't mean they're going to be OK with it.
Everything becomes a power struggle. My mother often said, "Remember, I am the mother." And even though I knew she wasn't in a position to be the mother, I had to bite my tongue. You have to learn how to communicate a completely different way. You can't bark orders, but you can't let things slide either, such as neglecting hygiene or not taking medication.
Repeatedly, I had to remind myself that I had to be the grown-up, and not the child, as much as I wanted to sometimes cry, stomp my feet and have it my way. Communicating with my mother was a balancing act of restraint and persistence.
Have a Conversation before the Crisis Hits
Planning for old age is a conversation no one wants to have, but take it from me, it's something you need to do. Nobody wants to talk about when they're going to die, but it's not an "if." Legal and financial considerations abound. Make a list.
Everyone should have at the very least a will, a health care power of attorney and a power of attorney for property. If your parents don't have those, that's a great way to start the conversation. Once this hurdle is crossed, ask to be introduced to the attorneys and be included in conversations.
Also, talk about catastrophic illness when you're planning. No parent wants their kids burdened with picking up the pieces in the midst of a health crisis with no preparation whatsoever.
All roads lead eventually to financial preparedness. Talk about what will happen if the funds run out and care is still needed. Typically, when retired parents run out of money, they end up on Medicaid. If the kids have the ability, they pool their money to get their parents a nicer room at a Medicaid facility. They help pay for entertainment, clothes, maybe a short trip. Several of these facilities won't kick them out once they are on Medicaid, but some will. It's scary, because people are living longer as medical costs escalate, and not having enough money to be admitted to a facility really limits your options.
Coming to Peace – It Takes Time
Some advice I would have given myself on the outset of this journey is to pick the battles. Let your parent have their choice as much as possible. They have a truth in their head — it doesn't have to match yours. And they do need a little control.
Many times, battles between adult children and aging parents come down to their own frustration and vulnerability. It has nothing to do with the child. But it is difficult to embrace that truth when you are in the middle of it.
Second, use your resources. There are a lot of them out there (so many more than when I was going through the process). Look to such resources as the AARP website, local senior citizens councils, as well as large social service organizations. And other people you know who are in the same boat qualify as an excellent resource, too. You don't have to create a formal support system. Just talk about it, and find someone with whom you can relate. When you're in it, it sometimes feels like it will go on forever, and it's nice to know you're not alone.
Finally, find peace in just making things a little better. We are so uncomfortable with aging and death in this country — it does us all a disservice. I could never do enough to make my mother's life the way I wanted it to be. I wasn't that powerful. I had to let go and make peace with the fact that I was doing everything I could to make the end better. That's hard to do. You can't fully prepare yourself for it. You just have to pay attention and appreciate the moments that do remain to spend time together. And when the end comes, you enter a new chapter of adulthood. You tidy up your parents' earthly goods, you gather up your memories, and you move forward.
Note: Investment advisory services provided through TC Wealth Partners LLC, an investment adviser registered with the U.S. Securities and Exchange Commission. Trust services and retirement plan services are provided by the Trust Company of Illinois, a trust company chartered by the Illinois Department of Financial and Professional Regulation. Past performance is not indicative of future results. The content of this article is for guidance and information purposes only and is not intended to be construed as advice. Information provided is not intended to provide investment, tax or legal advice.
This article was written by and presents the views of our contributing adviser, not the Kiplinger editorial staff. You can check adviser records with the SEC or with FINRA.
Wealth Adviser, TC Wealth Partners
Nancy Bell is a Certified Financial Planner™, Certified Divorce Financial Analyst®, Chartered SRI Counselor™ with 25+ years of experience in personal comprehensive financial and wealth planning. She is a wealth adviser and voting member of the investment committee at TC Wealth Partners (opens in new tab), located in Downers Grove, Ill.