Meet Six Founding Members of Kiplinger Advisor Collective
Meet six financial experts who are helping shape the future of Kiplinger Advisor Collective.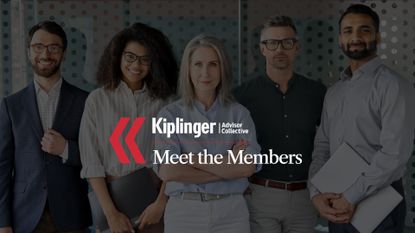 (Image credit: Getty Images)
Nicholle Overkamp, Dan DeGolier, Lynnette Khalfani-Cox, Louis Barajas, Biju Kulathakal and Jackie Porter are just a few of the accomplished finance execs joining Kiplinger Advisor Collective.
Their specialties range from financial planning and empowerment to outsourced CFO services, wealth management, fintech and investment advice.
As members, these experts can interact in a private online platform, connecting and collaborating to solve problems and meet challenges in their businesses. They also gain access to dedicated editors who help them develop bylined articles and quoted excerpts for publication on Kiplinger.com.
Subscribe to Kiplinger's Personal Finance
Be a smarter, better informed investor.
Save up to 74%
Sign up for Kiplinger's Free E-Newsletters
Profit and prosper with the best of expert advice on investing, taxes, retirement, personal finance and more - straight to your e-mail.
Profit and prosper with the best of expert advice - straight to your e-mail.
Get to know these founding members of Kiplinger Advisor Collective below. If you're a finance expert, such as a CFO, CFP or CPA, learn more about becoming a member.
Nicholle Overkamp, CEO and Founder, Wilcox Financial Group
Nicholle Overkamp is the CEO and founder of Wilcox Financial Group as well as PowHERhouse Money Coaching. She focuses on financial empowerment for women in both companies. Wilcox Financial is a financial planning and asset management firm offering services including retirement planning, investment planning, life and disability insurance and general financial wellness education.
Through PowHERhouse, a motivational and coaching organization, Overkamp helps smart, motivated women reach personal and business financial goals. With her co-founder at PowHERhouse, Sarah Blankenship, she wrote and published Money Bitch!: A No-BS Guide for Smart Women Who Want to Own Their Financial Future.
Extending her passion for female empowerment to the community, Overkamp also serves as a board member for Girl Scouts of Western New York and SheCAN!, a community of inspiring women on a collective journey to become their best selves.
Dan DeGolier, Founder & CEO, Ascent CFO Solutions
Dan DeGolier is the founder and CEO of Ascent CFO Solutions, a fractional CFO firm providing financial and accounting solutions to high-growth startups and established companies in all stages. Ascent CFO Solutions functions as an outsourced CFO for entrepreneurs and high-growth businesses, allowing them to receive expert financial strategy and execution without hiring a full-time CFO. Services include financial modeling and cash flow forecasting, startup launch, accounting infrastructure and outsourcing, capital and fundraising, M&A advisory and financial business intelligence metrics and dashboards.
Before founding Ascent CFO Solutions, DeGolier served as a CPA with a global accounting firm, a full-time CFO with multiple private companies and a fractional CFO for companies in diverse industries. He has over 30 years of experience in financial services and is an angel investor. He serves as a board member for the "I Have a Dream" Foundation of Boulder County.
Lynnette Khalfani-Cox, Co-Owner, TheMoneyCoach.net
Lynnette Khalfani-Cox is co-owner of TheMoneyCoach.net LLC, a financial education company that she runs with her husband, Earl Cox. They offer financial content creation, including curricula, videos and articles; strategic consulting for organizations, including businesses, nonprofits and government institutions; media coaching and spokesperson services; and speaking engagements.
Before TheMoneyCoach.net, Lynnette worked as a financial journalist. She was a Wall Street Journal reporter for CNBC, a reporter and personal finance editor at Dow Jones & Co. and worked for other well-respected media companies, like The Philadelphia Inquirer and The Associated Press. She has also authored 15 money-management books, including the New York Times bestseller Zero Debt: The Ultimate Guide to Financial Freedom, and has appeared on Oprah, Good Morning America, the Today show and many more high-profile media outlets.
Louis Barajas, Co-Founder and CEO, IPWAdvisors
Louis Barajas is a serial entrepreneur, founding and maintaining several businesses in the finance industry. He is the co-founder and CEO of both International Private Wealth Advisors and Business Management LAB, offering entertainers, executives and entrepreneurs wealth management and business management services respectively. He is also the founder and CEO of US-LATAM Tax Group, LLC, tax services for the entertainment industry, professional athletes and entrepreneurs in the U.S. and Latin America.
In addition to his corporate work, Barajas has served as an adjunct professor of finance courses at both East Los Angeles College and Golden Gate University, as a personal finance columnist for La Opinión and published five books on personal finance and entrepreneurship, including The Latino Journey to Financial Greatness and Small Business, Big Life. He focuses on creating financial dignity by helping people use their resources to live better lives.
Barajas has been profiled, appeared as a guest or quoted by many high-profile outlets, including CBS, CNN, NPR and Money magazine.
---
Kiplinger Advisor Collective is the premier criteria-based professional organization for personal finance advisors, managers, and executives. Learn more >
---
Biju Kulathakal, Co-Founder and CEO, Halo Investing
Biju Kulathakal is a serial entrepreneur and active angel investor. He is currently the co-founder and CEO of Halo Investing, where he leads the organizational strategy team. Halo's big move is democratizing access to investment solutions that have generally been available only to the very wealthy. Halo's tool suite offers smaller investment minimums, better returns and advanced risk management tech.
Previously, Kulathakal was one of the early investors and partners in Redbox, when it was GetAMovie; founder and CEO of Trading Block Holdings, an online brokerage firm specializing in option traders; and a founder of Enterprise Logic Systems, a fintech software firm. He is also active in the community. He is the founder of Vidya Foundation, offering scholarships to underprivileged children in developing countries, and has served on the boards of the Chicago Charter School Foundation, Beck Foundation, Civitas Schools, Leap Learning Systems and the Heartland Institute.
Jackie Porter, Owner, Team Jackie Porter
Jackie Porter is the owner of Team Jackie Porter, a financial planning service helping legal professionals and business owners retire comfortably. Her practice focuses on cash flow management and tax planning for small- to medium-sized businesses as well as professionals who receive a settlement or severance package. Porter also serves as a senior financial planner at Carte Wealth Management, which offers access to mutual funds, exchange-traded funds, principal protected notes and guaranteed investment certificates.
Beside financial advising, Porter is a featured speaker and advocate for numerous corporate, professional and charitable organizations. She has appeared on CBC, the Agenda and BNN and has been featured in financial publications like Forum, Wealth Professional and The Globe & Mail. She is the co-author of Single by Choice or Chance: The Smart Woman's Guide to Living Longer Better, a resource for single women preparing for their financial future.
To get to know more members of Kiplinger Advisor Collective, check out some of our success stories. If you're a CFO, CFP or other finance professional who would like to connect with other experts and explore publishing opportunities with Kiplinger.com, see if you qualify to join this vetted community of financial experts.
Kiplinger Advisor Collective is the premier criteria-based professional organization for personal finance advisors, managers, and executives.