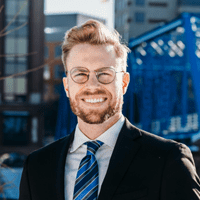 William Thatcher
Founder and President, Thatcher Wealth Management
As founder and president of Michigan-based Thatcher Wealth Management, William Thatcher's goal is to help his clients create successful retirement plans tailored to their specific needs. He passed the Series 65 securities exam and is an Investment Adviser Representative (IAR). He is life and health insurance licensed and has earned the National Social Security Association's National Social Security Adviser designation.
William is a graduate of Calvin University and started his career as an entrepreneur, co-founding the award-winning financial software company Anvil. He enjoys playing tennis, volunteering at church, hiking, spending time with friends and family, and he is passionate about giving back to the Grand Rapids community.
Investment Advisory products and services made available through AE Wealth Management, LLC (AEWM), a Registered Investment Adviser.
National Social Security Advisor Certificate Program (NSSA) is a certification created by the National Social Security Association, a for-profit entity.
The NSSA Certificate Program grants a Certificate to those who complete the one-day course and pass the proctored assessment. NSSA is independently accredited by The Institute in Credentialing Excellence (ICE). NSSA is not affiliated with, nor endorsed by, the Social Security Administration or any governmental agency. 1828818-6/23
Phone: 616.287.2343 | Email: admin@thatcherwm.com | Website: www.thatcherwm.com
Facebook: www.facebook.com/profile.php?id=100090169335396 | LinkedIn: www.linkedin.com/in/williamthatcherwm