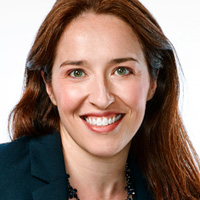 Kathleen Kenealy, CFP®, CPWA®
Senior Wealth Adviser, Boston Private, an SVB company
Kathleen Kenealy, CFP®, CPWA® is the Director of Financial Planning and a senior wealth adviser for Boston Private, an SVB company. She specializes in working with successful individuals and families to manage, protect and grow their assets. Ms. Kenealy provides guidance on investment, retirement, philanthropic, estate and tax-planning strategies. As Director of Financial Planning for Boston Private, she oversees the firm's financial planning processes and is responsible for the planning tools, technology and best practices made available to Boston Private advisers.
Ms. Kenealy has more than 15 years of experience in wealth planning and advisory services. She began her career as a financial planning consultant with Pillar Financial Advisors and, prior to joining Boston Private, worked as a wealth adviser with Peak Financial Management.
Ms. Kenealy holds a B.S. in finance from Babson College. She has been a member of the Red Cross of Massachusetts' Young Professionals Council for the last five years.
Email: bostonprivate@fullyvested.com | Website: www.bostonprivate.com/ | LinkedIn: www.linkedin.com/in/kathleenkenealy/