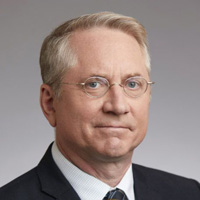 Foster Friedman, J.D.
Partner, Wade, Grimes, Friedman, Meinken and Leischner, PLLC
Foster Friedman concentrates on planning and controversy matters involving estates and trusts. He has extensive experience advising clients on the transfer of wealth from one generation to another, including the orderly and tax-efficient succession of family-owned businesses, through the preparation and implementation of wills, trusts, family limited partnerships and LLCs.
Friedman serves clients who seek to transfer assets efficiently to their chosen beneficiaries. As a part of our estate planning services, we consider the impact of federal income, estate, gift and generation-skipping transfer taxes on the transmission of wealth. We also advise our clients about the many forms of charitable giving that may be used to reduce taxes.
Finally, we advise executors and trustees about the administration of estates and trusts, and we represent clients in resolving will disputes, interpreting wills and trusts and related litigation.
Phone: 703.836.9030
E-mail: friedman@oldtownlawyers.com
Website: www.oldtownlawyers.com/attorneys/foster-s-friedman
Facebook: https://www.facebook.com/OldTownLawyers
LinkedIn: https://www.linkedin.com/company/oldtownlawyers