Managing a Financial Hardship: Real Life Stories
If you get laid off or are hit with a major household expense, do you have enough saved to help cover expenses? Here's how three people were able to cope.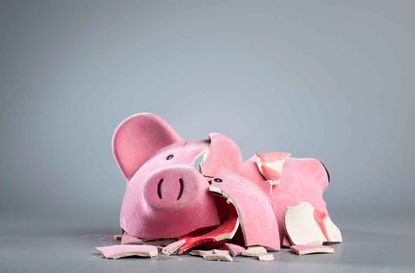 (Image credit: MichaelJay (MichaelJay (Photographer) - [None])
An unexpected blow to your finances can be detrimental if you aren't prepared. For these three people, scaling back on daily spending, sacrificing certain needs and tapping into an emergency fund made all the difference.
A Furlough Is No Vacation
The government shutdown in January wasn't the first time Sherrie Kinard hit turbulence during her 20-year career at the Environmental Protection Agency. Kinard, 47, of Highlands Ranch, Colo., rode out the two-week shutdown in 2013—while she was in the midst of a contentious divorce. Afterward, she beefed up her savings and became allergic to credit card debt. "This furlough was way more scary because we had no idea when it would end," she says. Plus, when she remarried last fall, she drew down her savings to pay for the wedding and to make a down payment on a new home.
Sherrie Kinard and her family cut back on unnecessary expenses, such as eating out, when her job was hit by the five-week federal government shutdown. Photo by Benjamin Rasmussen
Subscribe to Kiplinger's Personal Finance
Be a smarter, better informed investor.
Save up to 74%
Sign up for Kiplinger's Free E-Newsletters
Profit and prosper with the best of Kiplinger's expert advice on investing, taxes, retirement, personal finance and more - straight to your e-mail.
Profit and prosper with the best of Kiplinger's expert advice - straight to your e-mail.
When the furlough was announced, the family stopped eating out, and Kinard returned an expensive Christmas gift from her husband. Kinard immediately reached out to creditors. Her mortgage lender agreed to let her postpone her January payment without charging a late fee. Other creditors allowed her to postpone payments.
Kinard has two sons, Evan, 14, and Zachary, 12. Both are on the autism spectrum and need therapy and medications. Kinard pays about $400 a month in out-of-pocket expenses for Evan. (Zachary qualifies for support from Medicaid.) During the shutdown, Kinard had to cancel Evan's therapy.
Kinard missed two paychecks during the five-week shutdown, and she received back pay two weeks after it ended. If another shutdown had occurred, she would have taken a loan from her Thrift Savings Plan retirement account. At least, she says, she would be paying herself back.
Don't Skimp on Your Emergency Fund
Prarthana Appaiah, 29, started seeding her emergency fund when she took her first job as a substitute teacher in Loudoun County, Va., a position that was originally set up as a six-month contract. Living at home enabled her to save two-thirds of her paycheck each month, which she set aside in a savings account and put toward her emergency fund, as well as her student loans and buying a car. "Both of my parents started their emergency funds and investments much later in their careers, so they always encouraged me to start early," she says.
When Prarthana Appaiah had to shell out a several hundred dollars for unexpected car repairs, she was able to foot the bill thanks to her emergency fund. Photo by Ryan Donnell
Appaiah settled on $15,000 to $20,000 as the target amount she wants to hold in her emergency fund. As long as her emergency fund holds that amount, she focuses on investing rather than saving more. Now a full-time fourth-grade teacher and living with a roommate, Appaiah aims to save at least one-third of her paycheck each month. She doesn't automate transfers between her checking and savings account, but she keeps an eye on her bank account to make sure her savings are on track.
Her emergency fund came in handy recently when a series of misfortunes befell her 10-year-old car, including a hit-and-run while parked and unexpected repairs. But otherwise, "I don't touch it," she says. She's currently replenishing the last couple of hundred dollars she needs to return to her optimum $20,000 target.
Don't Be Blindsided by a Layoff
On January 23, Tim Swarens tweeted: "I was told a few minutes ago that @indystar has laid me off. I'm in shock."
Swarens, 57, had worked at the Indianapolis Star newspaper for 22 years, starting as a copy editor and ending as a columnist who wrote mostly about state and local politics. The layoff has been emotionally difficult, he says, but it's a situation for which he and his wife, Tina, had been financially preparing ever since layoffs at the newspaper began in 2008. "We had 10 years of understanding the industry was shrinking," he says.
After more than 20 years with the same employer, Tim Swarens was laid off. For him, bouncing back could mean switching industries. Photo by Harold Lee Miller
The couple diligently saved and paid off debt as quickly as possible. They have about nine months' worth of income in an emergency fund. Swarens's severance package amounts to about six months' salary, and Tina brings home a paycheck from her job as a digital editor at the Star. They still have mortgage payments but wrote their last tuition check in December for their son. Following the layoff that slashed their household income from the low six figures to five figures, the couple reviewed their budget and cut discretionary spending, such as dining out and maid service.
Swarens says he'd like to stay in journalism, but he realizes that industry trends may make that difficult. The week he was laid off, more than 1,000 journalists across the country were pink-slipped—some from other Gannett newspapers, some from digital publications.
Swarens's January tweet was a first step at networking and letting others know he's looking for work. A week later, he was offered a freelance assignment from an online news site.
Associate Editor, Kiplinger's Personal Finance
Miriam lived in Toronto, Canada, before joining Kiplinger's Personal Finance in November 2012. Prior to that, she freelanced as a fact-checker for several Canadian publications, including Reader's Digest Canada, Style at Home and Air Canada's enRoute. She received a BA from the University of Toronto with a major in English literature and completed a certificate in Magazine and Web Publishing at Ryerson University.