How to Throw a $5,000 Wedding
Two brides share their tips for keeping the costs of a ceremony, reception, dress, invitations and more under control.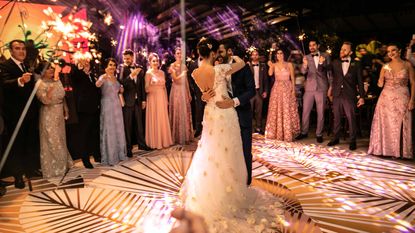 (Image credit: Getty Images)
A wedding can be an incredibly special event – and incredibly expensive. The average cost in the U.S. is $31,213, according to TheKnot.com's latest Real Weddings Study, and that doesn't even include the honeymoon.
Just because other couples are spending that much on weddings doesn't mean you have to shell out big bucks to get married. In fact, you can cover the cost of a dress, invitations, flowers, photographs, ceremony and reception for a fraction of the average amount couples spend on weddings. Just ask Sandy Smith and LaTisha Styles, who both stuck to a budget of about $5,000 for their weddings.
What's especially impressive is that Smith has been able to keep costs so low for a ceremony and reception in New York City, where the average amount spent on a wedding is more than $76,000, according to TheKnot.com. She says that she and her fiancé, Cory, didn't want to spend a lot on their upcoming May 5 wedding, which they're paying for out of their own pockets, because they'd rather use their money for the next phase of their lives: renovating their home and having children.
Subscribe to Kiplinger's Personal Finance
Be a smarter, better informed investor.
Save up to 74%
Sign up for Kiplinger's Free E-Newsletters
Profit and prosper with the best of Kiplinger's expert advice on investing, taxes, retirement, personal finance and more - straight to your e-mail.
Profit and prosper with the best of Kiplinger's expert advice - straight to your e-mail.
Styles, who got married on March 14 in Marietta, Ga., benefited from the fact that her wedding wasn't in a high-priced market. Smart planning and a lot of DIY also helped keep costs low so that she and her husband, Romeo Jeremiah, could pay cash for everything (rather than rack up debt) and have enough money for a honeymoon in Mexico.
If you're planning a wedding and looking for ways to keep down costs, take some tips from Smith and Styles. Even if your budget is bigger than $5,000, you can benefit from some of the strategies they used.
Keep it small. One of the biggest keys to keeping costs down is to limit the number of people you invite. According to the Knot.com's study, the average wedding has 136 guests. Both Smith and Styles wanted an intimate gathering with just family and close friends. Smith invited 50; Styles had 40 in attendance at her wedding. With fewer guests, you'll pay less for food and can opt for a smaller venue.
Stick to a single venue. Rather than pay for a ceremony at one place and a reception at another, Smith and Styles opted to hold both at the same location. Styles paid about $3,600 for a ceremony and reception at a historic mansion that provided a buffet meal, tables, chairs, linens, plates, silverware and centerpieces. Smith chose a restaurant with a private garden that will provide hors d'oeuvres, a buffet meal, a cake, tables, chairs, linens, plates and silverware for about $3,600 (including taxes and gratuity). She says that by having the ceremony and reception at one place, she also eliminates the cost of transportation from one place to another and condenses the amount of time a photographer is needed.
Avoid prime wedding times. Styles said a Saturday evening wedding package was the priciest at the mansion where she got married. So she saved $500 by opting for an afternoon ceremony and reception from noon to 4 p.m. Smith negotiated a discount on her venue by opting for a weekday wedding from 2 p.m. to 6 p.m. Be aware that the most popular month to get married is June, followed by October, according to TheKnot.com. With demand high at those times, you'll be less likely to get a deal on a venue.
Take it easy on the alcohol. Smith and Styles were willing to compromise on alcohol because it can be such a budget-buster. Styles didn't offer any and knew she could get away with it without many gripes because she had a daytime reception. Smith is having a champagne toast (included in the cost she negotiated for the reception) and a cash bar.
Sandy Smith's DIY invitation
Craft your own invitations. Smith found a company online that would've designed and printed her invitations for $200. Instead, she bought a Wilton pressed floral invitation kit on Amazon for $27.90 and used Photoshop to design her invitation. "My guests did not know that I printed the cards myself," she says. If you lack confidence in your design skills, Smith says that you likely can find someone to do it for you for just $5 on Fivver (opens in new tab), an online marketplace for services. Styles took a similar DIY route. She spent $48 on cardstock and envelopes from Hobby Lobby and used an art program on her computer to design her invitations. She asked guests to RSVP online (to avoid the cost of additional stamps and envelopes) at a Web site she created for her wedding for free through TheKnot.com
Look beyond the bridal shop. The average amount spent on a wedding dress is $1,357, according to TheKnot.com's study. Smith spent just $313 (including shipping) by ordering a formal dress – not an actual wedding gown -- through Etsy.com (opens in new tab) from a company in China. She searched specifically on Etsy for vendors outside the U.S. because she knew the prices would be lower. She took her own measurements, and the dress was custom made for her (and will need only one alteration). Styles saved money – and contributed to a good cause -- by buying a previously worn dress at a Brides Against Breast Cancer (opens in new tab) bridal show. The organization sells donated gowns at 50% off their original price and uses the funds for wellness and education services for those impacted by cancer. Another money-saving strategy is to rent a wedding dress.
Skip the florist. Smith discovered that flowers from the florist "can be ridiculously expensive." So she bought 350 stems of mixed flowers from a wholesaler, Potomac Floral (opens in new tab) for $191, and she will assemble bouquets and centerpieces herself. Styles says that she received a quote of $450 from a florist for three bouquets and two boutonnieres. "I told her 'No, thank you' and took my money and went to Costco," where she spent $96 for a bulk purchase of roses. She bought floral supplies from Michael's and spent about an hour the night before her wedding assembling bouquets and boutonnieres on her own. Sam's Club also sells flowers in bulk online.
Don't dismiss the dollar store. Smith bought vases for her floral arrangements for 99 cents each and packs of tea lights for less than $1 at a local dollar store. These discount retailers also can be a great source of inexpensive gift bags (for favors), ribbon and other craft supplies.
Take advantage of the Web. Smith scored a discounted photography package on Groupon (opens in new tab) for just $223. And she found an officiant for her ceremony for just $125 (versus an average of $266, according to TheKnot.com) on Thumbtack (opens in new tab), a site for finding professionals in all 50 states.
Ask friends and family for favors. Smith, who is from the Caribbean, wanted a rum cake at her reception in addition to the cake that's being provided by the restaurant as part of her reception package. So a friend is baking one as her wedding gift to Smith. And Styles got a deep discount on pictures of her wedding from a cousin who is a photographer.
You can learn more about budgeting for a wedding from Styles on her blog, Young Finances (opens in new tab), and get more details about how Smith is keeping the cost of her wedding low at her blog, Yes, I Am Cheap (opens in new tab).
Former Online Editor, Kiplinger.com
Huddleston wrote the daily "Kip Tips" column for Kiplinger.com. She joined Kiplinger in 2001 after graduating from American University with an MA in economic journalism.