Time to Get Your Head Out of the Sand about Long-Term Care
As more Boomers are becoming caregivers themselves for their parents and loved ones, the realities of the costs and work involved are sinking in. It's time to make a plan for yourself.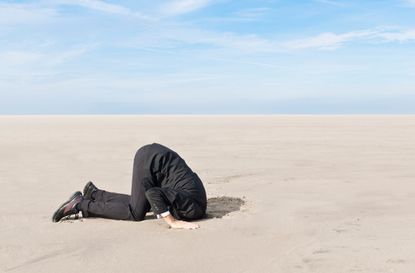 (Image credit: Jan-Otto)
Baby boomers are living longer than ever before. In fact, as a nation, we are getting grayer and grayer. The U. S. Census (opens in new tab) states that, "Already, the middle-aged outnumber children, but the country will reach a new milestone in 2035. That year, (they project) that older adults will edge out children in population size: People age 65 and over are expected to number 78.0 million, while children under age 18 will number 76.7 million."
Many baby boomers have remained ignorant of the challenges of living longer and of the need to make the necessary preparations for this phenomenon. Have baby boomers saved enough to take care of themselves as they age?
The simple answer is: no. In fact, it's NO.
Subscribe to Kiplinger's Personal Finance
Be a smarter, better informed investor.
Save up to 74%
Sign up for Kiplinger's Free E-Newsletters
Profit and prosper with the best of Kiplinger's expert advice on investing, taxes, retirement, personal finance and more - straight to your e-mail.
Profit and prosper with the best of Kiplinger's expert advice - straight to your e-mail.
Blinded by the Light
Living longer; working longer; loving longer. This is great. But this is all going to cost money. Who is going to pick up that tab? Are you just kicking the can down the road for your children to struggle with these costs and your care?
The Insured Retirement Institute (opens in new tab) in a 2018 study found that "42% of baby boomers have nothing saved for retirement. Among boomers who do have retirement savings, 38% have less than $100,000 saved for retirement. Further, (only) 38% have calculated the amount they will need to retire."
A Glimmer of Hope for the 'Silver Tsunami'
The Bankers Life Center for a Secure Retirement (opens in new tab) released research titled A Growing Urgency: Retirement Care Realities for Middle-Income Boomers. It found that Boomers' awareness for their aging and the associated costs is beginning to take hold. Scott Goldberg, president of Bankers Life, told me that, "While some people hope to live to age 100 or even longer, the cost of caregiving associated with living longer can still come as a surprise. However, it should be a non-negotiable in any retirement plan. As more Boomers are becoming caregivers for their parents and loved ones as they age, they are beginning to face the realities of caregiving first-hand, including the financial sacrifices that many caregivers must make to provide necessary care. The study shows that among the top five sacrifices Boomers are willing to make to provide care, the top two are reducing other spending (66%) and traveling less (41%).
"While experiencing caregiving from the perspective of a caregiver, Boomers now see the financial and emotional burden that caregiving can put on families and loved ones, especially when caregiving hasn't been planned for. In turn, Boomers are reconsidering and prioritizing caregiving in their own retirement plans to help alleviate the burden that they may place on others. Long-term care insurance or allotting savings specifically for future caregiving expenses can help families better prepare for the inevitable need for caregiving in their later years."
Who Picks Up the Tab?
Boomers are now picking up the tab for caring for their loved ones. According to the National Academy of Social Insurance (opens in new tab), "Today, billions of dollars' worth of care is provided without charge by families whose members give up time and money to willingly help their loved ones. But many of the baby boomers won't have these kinds of helpers, and may ultimately demand their fellow taxpayers to foot the bill for hiring caregivers. Millions of boomers won't have spouses or children to rely on when they become infirm and struggle to stay out of nursing homes."
You can't count on the government to pick up the bill. Medicare will pay for the cost of medical services offered in long-term care facilities, but they DO NOT pay for the cost of "any type of long-term care, whether in nursing homes, assisted living facilities or people's own homes," according to AARP (opens in new tab).
One Size Doesn't Fit All
There is no one solution to aging with dignity and care. An AARP survey (opens in new tab) found that "75% of boomers have not factored health care costs into their retirement savings goals, and 85% haven't included long-term care costs. Even for the 29% of boomers who consult with a financial adviser, only 52% have included health care and 36% have included long-term care in their planning."
It's time to start planning and include your adult children in that conversation. Some options to consider include:
Long Term Care Insurance
This is insurance that will help you to cover many services that are not covered by regular health insurance. According to NerdWallet (opens in new tab), "Most policies will reimburse you for care given in a variety of places, such as:
Your home.
A nursing home.
An assisted living facility.
An adult day care center."
You really need to buy this as you get into your 50s-or 60s, or you may not be able to qualify, or the cost could be prohibitive.
Short-Term Care Insurance
Short-term care insurance (opens in new tab) is usually a policy that covers the same costs as associated with long-term care, but will be for a shorter duration, for instance three months to a year.
Life Insurance with a feature called an Accelerated Death Benefit
Most whole life insurance policies will give you an option of an accelerated death benefit (opens in new tab), where you can "take a portion of the life insurance payout while you're still alive to pay for medical expenses, including long-term care. The death benefit is reduced by the amount used for long-term care."
Sell your life insurance policy
You may have a cash value built up in your existing policy and it may make sense to surrender it and get the cash value (it will be less than the death benefit) and use that money to help to pay for long-term care. Obviously, when you do die, your loved ones will no longer receive any death benefits.
Immediate Annuity
This is an annuity that you buy, and it carries a return as the financial institution will also pay you your principal back. Think of an an immediate annuity as sort of working like a pension. You will need a large amount to invest (usually $50,000 or more). If you are in poor health, you will probably get a higher annual payout than if you are healthy. This is because the insurance company, if you are healthy, will have to pay out over your remaining life (which could be a long time), or they can pay for a set period of time.
Medicare Home Health Care
Medicare will basically pay for short-term care, for instance after a fall or a surgery. You have to qualify for the services to be provided. They do not pay for custodial care for instance, if you are diagnosed with Alzheimer's or cancer, etc.
Don't Try This at Home
Don't try to navigate the financial waters by yourself. There are professional financial advisers out there who will help you to sift through all of the options. You really need to analyze your current financial situation; your savings; your current lifestyle; and most important, your desires. What do want your later years to look like? Do you want to be at home? Are you fine with a nursing home?
When you get a handle on all of that, it's time for your investment planning. That may involve cutting back now to assure you and your loved ones will have an inspired way forward that excites you all and that won't make you jolt up in the middle of the night in a cold sweat.
I love the words of Betty Friedan, who was a supporter of the First Women's Bank, while I was president; "Aging is not lost youth but a new stage of opportunity and strength."
President & CEO, Children's Financial Network Inc.
Neale Godfrey is a New York Times #1 best-selling author of 27 books, which empower families (and their kids and grandkids) to take charge of their financial lives. Godfrey started her journey with The Chase Manhattan Bank, joining as one of the first female executives, and later became president of The First Women's Bank and founder of The First Children's Bank. Neale pioneered the topic of "kids and money," which took off after her 13 appearances on "The Oprah Winfrey Show." www.nealegodfrey.com (opens in new tab)