Lines of Desire: Follow the Trail to Real Estate Investment Success
What can the wagon tracks carved by 1800s American pioneers teach us about modern day investing? Karlin Conklin explains the key to 'striking gold' in commercial real estate.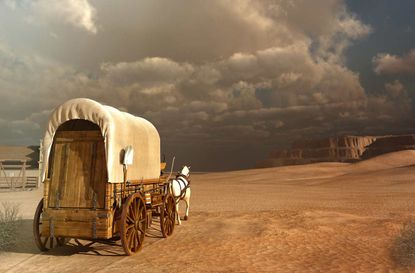 (Image credit: mppriv)
In the mid-1800s, American pioneers packed up and headed west toward a territory we now know as Oregon. This mass emigration more than 150 years ago created deep ruts along the Oregon Trail that, remarkably, in some areas are still visible today.
These ruts are what landscape architects and urban planners call "desire lines"; a result of erosion caused by human travel activity. These paths represent the shortest or most easily navigated route between an origin and destination, a sort of path of least resistance.
For real estate investors, there is a modern-day parallel. This metaphor guides our approach to "striking gold" in a real estate investment market.
Subscribe to Kiplinger's Personal Finance
Be a smarter, better informed investor.
Save up to 74%
Sign up for Kiplinger's Free E-Newsletters
Profit and prosper with the best of expert advice on investing, taxes, retirement, personal finance and more - straight to your e-mail.
Profit and prosper with the best of expert advice - straight to your e-mail.
Desire Drivers
Americans today are more mobile than ever in their pursuit of prosperity, and it's fueling demand for rental apartments. Both millennials and downsizing baby boomers are migrating to locations (particularly in the South) that offer an affordable cost of living, diverse urban lifestyle amenities and upward economic mobility.
Just as we can measure wagon ruts in the earth, we can measure desire lines to a real estate investment market by looking at:
Population: Is there positive net migration forecasted at the state, county and/or city level?
Employment: Is the unemployment rate below the national average? Are job gains forecasted? Is the jobs base diverse enough to withstand a downturn in any one or two industries?
Affordability: Does the average household income in the area support rent increases? In other words, will upgrades to amenities and interior units result in higher rents and accelerated rent growth?
Lifestyle: Does the area offer abundant retail, restaurants, brew pubs, coffee shops, entertainment and recreation? Are advanced education and cutting-edge health care options easily accessible? Are average commute times below the national average? Is there a sense of "community"?
Infrastructure: Is there a proven public commitment to connectivity, sustainability, services, technology and transportation?
Economic climate: Are the local/regional market forecasts healthy?
The term "desirable" is fairly objective when market analysis and reporting data from credible sources are used. Every real estate investment comes with a degree of risk, but sourcing locations based on these measures will pay off for an investor more often than not.
Beware of metros that lack these measures, especially in affordability. Extra deep wagon ruts may signal an overheated market (think: San Francisco and Washington, D.C.). Company relocations, out-migration population shifts, or rent control legislation are important clues in anticipating a market's desirability.
Modern-Day Pioneers: Our Colorado Experience
Our firm has followed desire lines into economic dynamo markets such as Seattle, Denver, Raleigh and Atlanta that have consistently ranked high in each of these measures.
In 2015, we were looking to buy in the Denver area based on its trending population growth, rising incomes and quality of life. The downside to Denver was its dipping housing affordability — apartments had become too expensive for many renters.
As we took the perspective of a renter following a path of least resistance, we shifted our view from the city's core to outlying communities where access to the Denver economy was easy, but housing costs were more sustainable. That path led us to the fast-growing suburb of Castle Rock.
The city benefitted from its close proximity to the Denver Tech Center, fueling redevelopment projects, job growth and infrastructure improvements. Douglas County demonstrated — and forecasted — exceptional net in-migration. Castle Rock boasted incomes higher than the metro average. Neighborhoods offered full services, beautiful vistas and unlimited nearby recreation.
We purchased a large apartment community in Castle Rock and immediately began upgrades to apartment interiors and community amenities to offer great value at rents well below comparable close-in Denver properties. Residents received the completed project positively, with high occupancy and lease renewals, while our investment partners benefited from a strong-performing asset.
Credit for the investment's success belongs to our following the desire lines to Denver and then spotting a footprint into Castle Rock — then finally, creating a best-in-class living experience at our property.
Winning Today's Real Estate 'Land Rush'
Whether you currently own real estate or plan to in the future, the impressions left by intrepid pioneers of the 1800s can guide you in the "gold fever" of modern real estate investing. Desire lines are the key principle any investor should use when scouting locations for real estate investment. Collecting credible market data — and spotting trends in urban mobility before the wagon ruts get too deep — is fundamental to your investment success.
0
Principal & Executive Vice President, Investors Management Group
Karlin is Principal and Executive Vice President of Investors Management Group (opens in new tab), a privately held real estate firm headquartered in Woodland Hills, Calif. IMG has transacted over $1.6 billion nationally in this cycle, with over $500 million in multifamily assets (3,000 units) currently under management nationwide. She holds an MBA from the University of Oregon.