An Investing Gender Gap?
Research shows that women tend to differ from men in their approach to investing.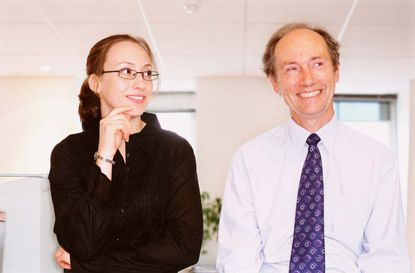 (Image credit: (c) Image Source)
In answer to a reader's request in our December issue, I promised that we would publish more stories on financial issues of particular interest to women. That prompted a handful of letters from concerned male readers. "Financial issues are financial issues," wrote Charles Busbey, of Dripping Springs, Texas. "Income is income, and good stocks are good stocks, regardless of the gender of the owner." I completely agree, as I assured Mr. Busbey. But research shows that women tend to differ from men in their approach to investing. That's the subject of our cover story. We titled the story The Secrets of Women Investors, but we might easily have added "and How They Can Make You Rich" in parentheses.
Of course, as contributing editor Kathy Kristof writes, men have their strong suits, too, and you can read about them in a section of the cover story, When Men Are Better at Investing. I won't divulge the secrets of either men or women here, but let's just say that together they make a socko combination.
As part of our research for the cover story, we partnered with InvestmentNews to survey Kiplinger's readers via e-mail. We received more than 1,500 completed surveys, almost evenly divided between men (53%) and women (47%). Some noteworthy results:
Subscribe to Kiplinger's Personal Finance
Be a smarter, better informed investor.
Save up to 74%
Sign up for Kiplinger's Free E-Newsletters
Profit and prosper with the best of Kiplinger's expert advice on investing, taxes, retirement, personal finance and more - straight to your e-mail.
Profit and prosper with the best of Kiplinger's expert advice - straight to your e-mail.
-- Kiplinger's readers feel comfortable with a wide range of investments. Overall, 81% of our readers own stock mutual funds and 62% own individual stocks, with both men and women giving very similar responses. But our survey shows some interesting differences. For example, men are more likely to own exchange-traded funds (45% versus 33%), and women are more likely to own insured money market accounts (24% versus 16%).
-- Not surprisingly, nearly 90% of respondents said they primarily learn about personal finance from financial publications and websites. Men are more likely than women to watch financial news on TV (27% versus 20%), and women are more likely to ask questions of a financial adviser (26% versus 20%) or talk to friends and family (10% versus 4%).
-- Men were more likely than women to say they have an above-average risk tolerance (39% to 29%). But among unmarried women with a high net worth ($750,000 or more in investible assets), a larger percentage—41%—said their risk tolerance is above average.
-- Overall, 62% of respondents consider themselves "extremely knowledgeable" about their investments. However, men were much more likely to say this than women (70% versus 53%). Among women who earn about as much as their spouses—or who are the primary wage earners—-and make household investment decisions equally, the figure jumps to 61%.
-- Women were more likely than men to say their number-one personal financial goal is to "retire with financial security and peace of mind" (52% versus 45%). Men are more interested than women in leaving a legacy for future generations (15% versus 8%).
-- Among women, 39% currently use a financial adviser, compared with 35% of men. And women are more likely than men to value the adviser's services in planning retirement income (64% versus 59%).
To their credit, nearly 80% of those surveyed, both men and women almost equally, have done a projection to determine how much they'll need in retirement—and 93% are on track to meet their retirement goal.
Editor-at-Large, Kiplinger's Personal Finance
Janet Bodnar is editor-at-large of Kiplinger's Personal Finance, a position she assumed after retiring as editor of the magazine after eight years at the helm. While editor, Bodnar was honored by Folio as one of its Top Women in Media. She is a nationally recognized expert on the subjects of women and money, children's and family finances, and financial literacy. She is the author of two books, Money Smart Women and Raising Money Smart Kids. As editor-at-large, she writes two popular columns for Kiplinger, "Money Smart Women" and "Living in Retirement." Bodnar is a graduate of St. Bonaventure University and is a member of its Board of Trustees. She received her master's degree from Columbia University, where she was also a Knight-Bagehot Fellow in Business and Economics Journalism.