What's Next For Health Care, Trump's Agenda?
Don't be surprised if the president's other top priorities get pushed back to 2018 and beyond.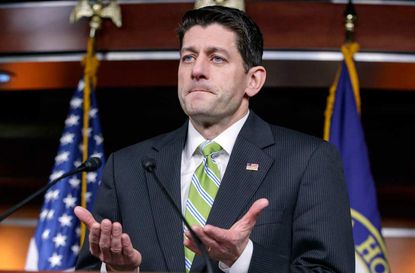 (Image credit: Copyright 2017 The Associated Press. All rights reserved.)
Editor's note: The following is a bonus edition of Kiplinger Alerts, bringing you the latest developments from Washington on congressional Republicans' health care reform bill. Kiplinger editors are reporting live from Capitol Hill on House GOP leaders' efforts to secure enough support to pass the measure, and their ultimate decision to cancel a planned Friday afternoon vote.
SEE ALSO:
For more valuable insights like this, sign up for Kiplinger Alerts – free 30-day trial!
p>
Subscribe to Kiplinger's Personal Finance
Be a smarter, better informed investor.
Save up to 74%
Sign up for Kiplinger's Free E-Newsletters
Profit and prosper with the best of expert advice on investing, taxes, retirement, personal finance and more - straight to your e-mail.
Profit and prosper with the best of expert advice - straight to your e-mail.
The odds of repealing and replacing Obamacare look even worse after House Republicans couldn't unite around replacement legislation and the bill had to be pulled before today's vote.
The failure represents a major setback for President Trump and for House Speaker Paul Ryan (R-Wis.).
It also suggests Republicans in Congress are more concerned about facing unhappy voters next year than they are an angry president of their own party.
It isn't clear when or if the Republican majority will revisit health care legislation or whether they'll move on to tax reform or other major parts of Trump's first-year agenda.
The Kiplinger Letter forecast from earlier this month remains unchanged: Don't be surprised if his top three priorities for 2017 – ditching Obamacare, passing comprehensive tax reform and putting in place a $1-trillion infrastructure bill – get pushed back until 2018, maybe longer.
On health care, it wasn't for lack of trying. The White House and the GOP leadership lobbied aggressively in the lead-up to the vote, hoping to persuade the House Freedom Caucus, an influential group of conservative Republicans, to support the American Health Care Act. In the end, the arm-twisting efforts fell short.
"Here's the problem: We're having a hard time making the transition from being an opposition party to being truly in the majority in Washington, D.C.," said Rep. Mike Coffman (R-Colo.). "It used to be an opposition party. There's a comfort in being against everything."
The failure underscores the biggest obstacle to any GOP health care reform effort: The party is simply too divided to pass legislation that pleases all its members. After this week, it's unclear if conservatives will settle for anything less than a full repeal of Obamacare. Moreover, any changes made to placate the conservatives will further alienate moderate Republicans and vice versa.
The problem is even worse in the Senate. Many GOP lawmakers hail from states that benefited from Obamacare's expanded coverage. They fear voters will rebel if they pass a bill that could result in 24 million people losing their health insurance over the next decade, as the Congressional Budget Office estimated. Moderate senators, including Susan Collins (Maine) and Lisa Murkowski (Alaska), also object to any efforts to defund Planned Parenthood, one of the few moves House Republicans have to attract more conservative votes.
Rep. Tom Reed (R-N.Y.) refused to point fingers, saying the members must do some serious soul searching regarding the direction the House Republican Conference wants to take. "I'm always the optimist. I have high regard for President Trump and the opportunity he has for disrupting Washington. Maybe this will be a learning moment where we can evolve."
We probably haven't heard the last on this issue, despite President Trump's pledge to move on if Congress failed to pass the AHCA. Almost every big-ticket item on the GOP's legislative agenda, including tax reform and infrastructure, depends on the budgetary savings that would result from repealing Obamacare. In short, if Republicans can't do health care, it will be hard for them to do much of anything.
"Ultimately, this all kind of comes down to a choice," Ryan said. "Are all of us willing to give a little to get something done? Are we willing to say 'yes' to the good, to the very good, even if it's not the perfect? If we're willing to do that, we still have such an incredible opportunity in front of us."
But they have a very short window of opportunity to accomplish these things before facing the voters in 2018. Midterm elections are almost always hard on the party in power, but Republicans up for re-election next year may also have to distance themselves from an unpopular president and from health care, an issue that seems to burn whichever party touches it.
SEE ALSO:
For more valuable insights like this, sign up for Kiplinger Alerts – free 30-day trial!
p>
The Democrats discovered this when they tackled health care reform under President Clinton and President Obama. Now, it's the Republicans' turn.
Sean Lengell contributed to this report.

Reporter, The Kiplinger Letter
Housiaux covers the White House and state and local government for The Kiplinger Letter. Before joining Kiplinger in June 2016, he lived in Sioux Falls, SD, where he was the forum editor of Augustana University's student newspaper, the Mirror. He also contributed stories to the Borgen Project, a Seattle-based nonprofit focused on raising awareness of global poverty. He earned a B.A. in history and journalism from Augustana University.