How to Size up Banks and Savings and Loans
Six factors to consider when selecting an institution for your daily banking needs.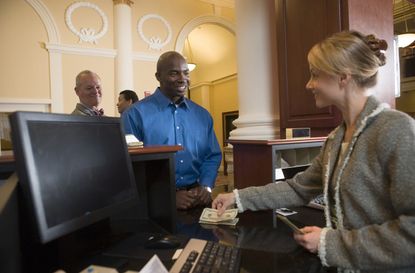 (Image credit: (c) Comstock Images)
Banks and savings and loan associations (sometimes called savings banks) have different histories and different traditions. But they are virtually indistinguishable from the consumer's point of view, so we'll consider them together. (Having an account at what's called a mutual savings bank makes you part owner of the bank and means you earn dividends instead of interest, but otherwise mutuals operate the same as conventional S&Ls.)
Convenience
Before you pick the bank or S&L that is closest to you, drop into the branch you're considering to see how it handles face-to-face transactions. Is there an express line for customers with simple deposits or withdrawals? Are there enough tellers? Are there 24-hour automated teller machines? Are there other branches convenient to both your work and home?
Costs
Evaluate the rate the bank pays you on the kinds of accounts you have in mind versus the fees it charges you for those accounts. Some banks discourage small depositors by levying fees on accounts below a certain size or by charging for withdrawals over a certain number within a specified length of time. Even if you are not in the small-saver category, you could find yourself paying fees for services you used to get for free.
Subscribe to Kiplinger's Personal Finance
Be a smarter, better informed investor.
Save up to 74%
Sign up for Kiplinger's Free E-Newsletters
Profit and prosper with the best of expert advice on investing, taxes, retirement, personal finance and more - straight to your e-mail.
Profit and prosper with the best of expert advice - straight to your e-mail.
Comparing Interest Rates
Remember that your real yield, usually referred to as the effective yield, is determined by how often interest is compounded and how often it is credited to your account. For example, a 5% nominal (stated) annual interest rate actually pays a 5.13% effective yield if interest is compounded daily. However, if the interest isn't credited to your daily compounded account until the end of the quarter and you withdraw, say, $1,000 five days before the quarter ends, you usually lose all the interest earned on that amount up to that point.
The ideal account pays the highest rate, compounds interest daily (or "continuously," a formula that yields fractionally more), and credits interest daily to the day of withdrawal. Many institutions offer these day-of-deposit-to-day-of-withdrawal accounts.
Comparing Services
At most banks you can find safe-deposit boxes; bill-payer accounts, which permit you to direct the bank by phone or personal computer to pay certain bills directly from your account; overdraft protection; direct deposit; automated teller machines, or ATMs; and brokerage services, which permit you to buy and sell stocks and bonds through your bank at a discount from the rates charged by full-service brokers. Some also have arrangements by which you can purchase insurance on your car, home or life.
Because so much banking is done at ATMs, it's important to know how ATM transactions differ from old-fashioned face time with a teller. For example, some ATMs nick you for a dollar or two each time you use a machine owned by an institution other than your bank.
For deposits, machines may be slower than tellers. When you deposit a check at your own bank's ATM that's within 50 feet of the bank itself, the money must be available in your account within two business days for a local check and five days for an out-of-town check -- same as if you'd handed it to a teller. But if you go around the corner to a another bank's ATM where deposits are permitted, the bank gets five days to post the check to your account no matter from where it came. Also, cashier's checks, certified checks, and checks drawn on a Federal Reserve Bank take one day to clear when you hand them to a teller but two days when you deposit them at an ATM. Finally, remember that an ATM's business day may end earlier than the teller's window closes, and that can also delay your access to funds.
Guarantee Your Safety
Most banks, savings and loans, and mutual savings banks are members of the Federal Deposit Insurance Corporation, a government agency that provides $250,000 of insurance per account. The insurance covers you in case the bank goes broke and can't return your money. Normally, all checking accounts, savings accounts and CDs owned by one person at the same bank, including all its branches, count toward the $250,000 limit. But you can increase your coverage at the same bank by opening accounts in different categories of ownership. A married couple, for example, could open individual accounts in each spouse's name plus a joint account in both names and qualify for $750,000 of insurance coverage.
Irrevocable trust accounts also qualify for separate coverage. Totten trust ("pay on death") accounts and revocable living trust accounts qualify if the beneficiary is a spouse, child or grandchild. But the FDIC's rules concerning trust accounts are very complex. Check with the bank and get its response in writing. For more information on FDIC coverage, ask your bank or S&L for the FDIC publication, Your Insured Deposit, or check the FDIC's Web site, www.fdic.gov. The most reliable way to make sure that an account is covered if you find yourself with more than $250,000 at a single institution is to move the excess to another bank.
What if your bank does go broke? As long as it's federally insured and your balance is less than $250,000, you won't lose anything except possibly a few days' interest. In most cases a failing institution is merged with a healthy one, with no interruption in business. If an institution is shut down, you may have to wait a few days to get your money.
One thing you should know about savings and loans that makes some of them different from banks: A few states have their own insurance plans for state-chartered savings associations that aren't members of the FDIC. Spectacular collapses of state insurance systems in Ohio and Maryland in the mid-1980s, and in other states before that, should cause you to think long and hard before entrusting your savings to an institution that does not carry federal deposit insurance.
Banking Online
The advantages of online banking are hard to beat: You can check your balance any time. You can move money from checking to savings and vice versa. You can designate which bills to pay with which funds and when to pay them. Some banks offer online banking free. Others charge a fee for bill paying, plus perhaps regular checking-account fees.
If you're comfortable in this electronic environment, there's no reason not to do your banking online. Banking services take special measures to safeguard your online transactions by using firewalls and encrypting your account information to prevent hackers from performing unauthorized transactions with your money.
QUIZ: Kiplinger's Personal Finance Quiz
Before you bank online, make sure the bank is legitimate and the deposits are federally insured. Watch out for copycat Web sites that deliberately use a name or Web address similar to a real financial institution. Keep your personal information such as account numbers, PINs and passwords private. When you are online conducting a transaction, look for a closed padlock or key icon, which will indicate that your transaction is being encrypted and is secure.