How to Set Up a Scholarship Fund
You usually need at least $20,000, but a college or community foundation will do most of the legwork.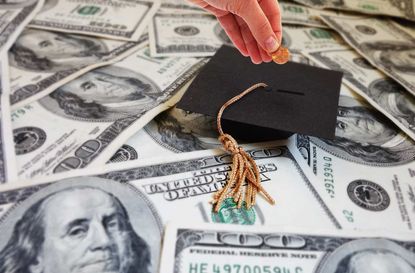 (Image credit: Getty Images/iStockphoto)
My uncle passed away last year, and I'd like to establish a scholarship fund in his name. What steps do I need to take, and how much money do I need?
Creating a scholarship fund can be a great way to remember your uncle and help students pay for their education. You can also take a charitable deduction for the money you give to a college, community foundation or other eligible charity.
You usually need about $20,000 to $25,000 to endow a scholarship that pays out $1,000 every year. The requirements vary by organization. Some let you create a shorter-term scholarship fund with less money. San Diego State University, for example, requires $50,000 to endow a $2,000 annual scholarship, or you can commit to giving $5,000 a year over three years to finance three $5,000 scholarships for one year.
Subscribe to Kiplinger's Personal Finance
Be a smarter, better informed investor.
Save up to 74%
Sign up for Kiplinger's Free E-Newsletters
Profit and prosper with the best of expert advice on investing, taxes, retirement, personal finance and more - straight to your e-mail.
Profit and prosper with the best of expert advice - straight to your e-mail.
The development office at a school or community foundation will help you set up the scholarship. You may want to focus on students who live in your uncle's hometown or those who plan to major in his line of work or who have a certain grade point average and attend his alma mater. The organization can help you determine the type of requirements to impose without making the applicant pool too small. It may also help you create a fund even if you don't have enough money to endow an annual scholarship. Rather than paying for college tuition, for example, your gift could pay for students to attend a study-abroad program or educational camp.
A community foundation can help you set up a scholarship that isn't tied to a particular school – helping local students who are interested in studying engineering, for example. You can find a community foundation in your area at www.cof.org/locator. Some have more experience than others with managing scholarships.
Ask what types of assets you can give and how the school or community foundation will invest the money. You can give cash, appreciated stock or other investments to create the scholarship fund. People over age 70½ can now transfer up to $100,000 tax-free from an IRA to charity every year, which counts as their required minimum distribution but isn't included in their adjusted gross income and can be a source of money for a scholarship fund (Congress recently extended this law permanently; see 12 Valuable Tax Breaks Congress Has Brought Back to Life for more information).
Ask how the scholarship will be advertised, how the recipient will be selected and if there are any fees. Find out how involved you can be; you may be able to sit on the selection committee but not be the main decision maker, for example.
Some people who don't have enough money to set up an endowed scholarship make contributions to a donor-advised fund for a few years and give the money to a college or community foundation to start a scholarship after their balance reaches a certain level (in that case, you get the charitable tax deduction when you give the money to the donor-advised fund rather than when you start the scholarship). See Donor-Advised Funds: Tax Break Now, Charity Later for more information.

Contributing Editor, Kiplinger's Personal Finance
As the "Ask Kim" columnist for Kiplinger's Personal Finance, Lankford receives hundreds of personal finance questions from readers every month. She is the author of Rescue Your Financial Life (McGraw-Hill, 2003), The Insurance Maze: How You Can Save Money on Insurance -- and Still Get the Coverage You Need (Kaplan, 2006), Kiplinger's Ask Kim for Money Smart Solutions (Kaplan, 2007) and The Kiplinger/BBB Personal Finance Guide for Military Families. She is frequently featured as a financial expert on television and radio, including NBC's Today Show, CNN, CNBC and National Public Radio.