How to Haggle With the Car Dealer
Use these strategies to get the best price on a vehicle.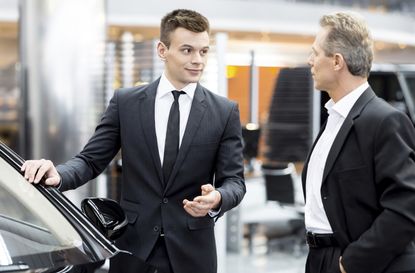 (Image credit: Getty Images/iStockphoto)
Everyone knows you shouldn't pay full sticker price for a new car, but few people savor the prospect of trying to whittle down the cost. What's more, most buyers are likely outmatched in the haggling game by salespeople with years of daily experience thrusting and parrying around the showroom floor.
Before you set foot in the showroom, arm yourself with infor­mation on prices to assess demand for the vehicle you want. At Edmunds.com (opens in new tab), KBB.com (opens in new tab) and TrueCar.com (opens in new tab), you can see transaction prices in your area. "If you want to be first on the block to drive a hot new model, a fair price is sticker price," says Jesse Toprak, chief analyst for Cars.com (opens in new tab). But most often, a fair price -- one that reflects what others are paying while giving the dealer a profit -- will fall somewhere between the invoice and the sticker.
Rather than going straight to a dealership, call -- or, even better, e-mail -- managers at a few dealers in your area, and ask for the best price on the car you want. Then pick the dealer you would most like to buy from. If it didn't quote the lowest price, ask whether it can beat the best offer you got. To avoid naming your price first, ask the salesperson how low he or she can go. Then you can toss out a lower price than your target. But don't dip so low that the dealer dismisses you.
Subscribe to Kiplinger's Personal Finance
Be a smarter, better informed investor.
Save up to 74%
Sign up for Kiplinger's Free E-Newsletters
Profit and prosper with the best of Kiplinger's expert advice on investing, taxes, retirement, personal finance and more - straight to your e-mail.
Profit and prosper with the best of Kiplinger's expert advice - straight to your e-mail.
At each step of the negotiation, repeat all of the discounts or deals that you've discussed previously to reinforce what you'll be getting when it's time to move to the paperwork. Any cash rebate should come off the final, negotiated price -- not the sticker price.
Don't let the salesperson rush you, but don't let the back-and-forth drag out too long, either. "Be somewhat unpredictable" so the dealer understands that you're willing to walk away, says Philip Reed, senior consumer advice editor at Edmunds.com. For example, if the salesperson takes your offer to a manager several times, say that you're going to look at other cars on the lot while you wait.
Timing is important. Mondays, Tuesdays and Wednesdays tend to be better for buyers because dealerships are less crowded than on the weekend. Toward the end of the month, dealers may be trying to hit sales quotas. And at the end of the summer and into the fall, they are pushing out inventory to make way for new model-year cars.
Avoid the F&I tricks. Never reveal to a salesperson your monthly budget; there are many ways to extend the loan or play with the rate to meet your monthly nut while inflating the price of the vehicle. If you need a car loan, check with several banks and credit unions beforehand, and have a preapproval in hand so you can compare the rate and terms with any offer from the dealer or manufacturer.
Always negotiate the value of your trade-in separately. And watch out for extras that jack up the cost of your car in the finance and insurance (F&I) office. But ask whether the dealer will provide any upgrades -- say, an alarm system or a set of floor mats.
Contributing Editor, Kiplinger's Personal Finance
Lisa has spent more than15 years with Kiplinger's Personal Finance and heads up the magazine's annual rankings of the best banks, best rewards credit cards, and financial-services firms with the best customer service. She reports on a variety of other topics, too, from retirement to health care to money concerns for millennials. She has shared her expertise as a guest on the Today Show, CNN, Fox, NPR, Cheddar and many other media outlets around the nation. Lisa graduated from Ball State University and received the school's "Graduate of the Last Decade" award in 2014. A military spouse, she has moved around the U.S. and currently lives in the Philadelphia area with her husband and two sons.