Real Estate Crowdfunding: Investing Without the Hassle of Ownership
Learn about real estate crowdfunding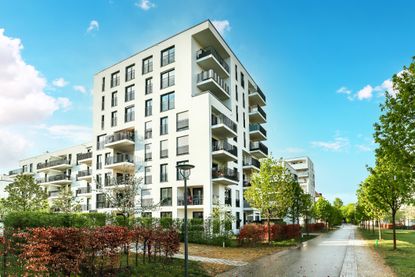 (Image credit: Getty Images)
Investing in real estate can be quite lucrative, although generally, the really big bucks are reserved for the largest deals. To access such large deals, investors need hundreds of millions or potentially even billions of dollars, placing such investments out of the reach of the average investor.
However, what many investors may not realize is that crowdfunding can make these massive real estate deals easily investable for them — enabling them to get a piece of the really big action. Here's what you need to know about real estate crowdfunding, including how it works and how to get started.
How real estate crowdfunding works
Crowdfunding allows a large number of investors to pool their money and invest in a sizable real estate deal, often on the commercial side of the business. It provides a way for investors to diversify their investments into real assets, growing their wealth in the process.
Subscribe to Kiplinger's Personal Finance
Be a smarter, better informed investor.
Save up to 74%
Sign up for Kiplinger's Free E-Newsletters
Profit and prosper with the best of expert advice on investing, taxes, retirement, personal finance and more - straight to your e-mail.
Profit and prosper with the best of expert advice - straight to your e-mail.
Additionally, real estate crowdfunding enables investors to dip their toes into the world of real estate with a small upfront investment and no management-related involvement with the property required afterward. In exchange for investing a small piece of the total investment needed for the property, the investor receives a comparable share of the income it generates.
Crowdfunded real estate opportunities are posted online on platforms like Fundrise, CrowdStreet, Yieldstreet, or one of the many other platforms dedicated to such deals or other types of alternative investments. Typically, these deals require a minimum investment that can vary widely, from as low as $1,000 or $5,000 to as high as $25,000 or $50,000.
Generally, crowdfunded real estate offers come in the form of either equity or debt. Under the first option, you can invest in shares of a particular real estate project, which means you own a percentage of the property's equity. In most cases, these equity investments pay regular dividends from rent payments or other income collected from the property.
Of course, debt investments usually involve making loans to the owners of commercial investment projects. These deals also typically pay regular dividends, although the money comes from the monthly interest paid to investors for the loan.
Accreditation not always required
Although many crowdfunded real estate offers require that investors be accredited in order to participate, not all of them do. Thus, investors who aren't sitting on a significant amount of money may be able to get in on the pricey commercial real estate scene with a relatively small investment.
To be accredited, investors must satisfy at least one of several criteria. They must either have a net worth of over $1 million, excluding their primary residence, or earned income exceeding $200,000 (or $300,000 for married couples) in each of the last two years.
Alternatively, investors can be considered accredited if they hold certain professional certifications or licenses required to work in the finance industry or, in some cases, if they work at a private fund. There are also a couple of other exceptions, according to the Securities and Exchange Commission.
However, before deciding to invest, it's critical that you figure out if the offer requires you to be accredited. In fact, the SEC has set limits on how much non-accredited investors can invest in crowdfunded opportunities per year.
The regulator actually increased those limits in October 2022 in response to the year's runaway inflation. For example, if your annual income or net worth is less than $124,000, then you can invest the greater of either $2,500 or 5% of either your annual income or net worth, whichever is greater. You can find the SEC's full list of investment limits by income and net worth on its website here.
Beware the lack of regulation
While investors can enjoy many benefits by investing in crowdfunded real estate deals, there are always risks, just like with any investment. Of course, portfolio diversification is always important, but a critical issue with real estate crowdfunding is the lack of regulation.
These types of strategies are still quite novel, and anyone can come forward with a proposal, even one that sounds quite plausible, that may not end up working. The lack of regulation could allow inexperienced people or even scammers to offer deals that will simply never work — leaving unsuspecting investors holding the bag when the project ultimately fails.
Thus, the need for due diligence to understand every single offer is clear.
Bottom line
Real estate crowdfunding is not for all investors. As with most investments, significant risk comes with the possibility of significant reward, so it's a good idea to weigh the pros and cons of real estate crowdfunding.
The benefits of real estate crowdfunding include: the potential for high returns, regular dividend payments, portfolio diversification, access to commercial real estate deals with a low investment, and not having to manage the property.
On the other hand, the potential disadvantages include: a lack of liquidity, meaning your funds may be locked up for years, the need for due diligence and understanding of a potentially complex deal, fees that could reduce your returns, the potential tax implications, and the possibility that accreditation is required.
Related content
Jacob is the founder and CEO of ValueWalk. What started as a hobby 10 years ago turned into a well-known financial media empire focusing in particular on simplifying the opaque world of the hedge fund world. Before doing ValueWalk full time, Jacob worked as an equity analyst specializing in mid and small-cap stocks. Jacob also worked in business development for hedge funds. He lives with his wife and five children in New Jersey. Full Disclosure: Jacob only invests in broad-based ETFs and mutual funds to avoid any conflict of interest.