How to Pick the Perfect Credit Card
Sponsored Content From CompareCards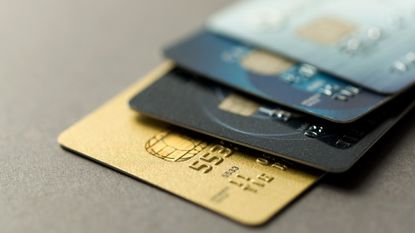 With so many different credit cards and issuers in the marketplace, it's easy to get overwhelmed. Here's how you can cut through the noise and find the right credit card for you.
Since they were first introduced in the 1950s, credit cards have grown to become a key part of the financial lives of millions of Americans – according to the Consumer Financial Protection Bureau, 66% of the 255 million adults in the United States had at least one credit card account in their name by the end of 2018. But with dozens of card categories and hundreds of individual cards to choose from, it's only gotten harder to find that perfect credit card offer without getting burned by hidden fees or fine print.
Everyone's financial situation and spending habits are different, which can make finding the right credit card feel like searching for a needle in the proverbial haystack. However, there's a few things that you should be on the lookout for when it comes to your next credit card – read on to find out.
Subscribe to Kiplinger's Personal Finance
Be a smarter, better informed investor.
Save up to 74%
Sign up for Kiplinger's Free E-Newsletters
Profit and prosper with the best of Kiplinger's expert advice on investing, taxes, retirement, personal finance and more - straight to your e-mail.
Profit and prosper with the best of Kiplinger's expert advice - straight to your e-mail.
Look for 0% Intro APR
APR, or annual percentage rate, is the interest rate you'll be charged if you carry a balance on your credit card. Interest rates can be a huge deal, especially if you're carrying a large balance – in 2018 the effective interest rate for general purpose cards averaged 15.6% according to the CFPB. A high interest rate means you could end up paying a significant amount of money to your credit card issuer if you're carrying a balance month-to-month.
The good news is that many cards on the market today offer extended periods of 0% intro APR – this means that for a certain period of time after opening a new credit card account, you won't be paying an interest on your credit card balance. This can give you an incredible amount of flexibility: if you have a big-ticket purchase coming up or find yourself in an emergency where money is tight, you can have peace of mind knowing you won't be facing a massive interest charge when your monthly bill comes due.
0% intro APR periods for purchases usually last 12-18 months depending on the card – if you're anticipating that you'll be carrying a large balance month-to-month on your new card, longer is better. It's not all a numbers game though – some cards may have very long periods of 0% intro APR for purchases but also high annual fees or not much in the way of other rewards. When you're picking out a card be sure to compare and weigh your options.
Think About a Balance Transfer
A balance transfer is the process of transferring the debt balance from one credit card to another. This can be especially useful when you're transferring a balance from a card with a high interest rate to a card with a lower interest rate – since you'll be paying less in interest charges on the new card, you could end up saving money in the long run.
The top balance transfer cards in the market usually offer a period of 0% intro APR after the balance transfer, which means that you won't be paying any interest charges for a period of time after transferring your balance (usually a year). This works in much the same way as 0% intro APR for purchases. This gives you plenty of time to consolidate your credit card debt and pay it down quickly without having to worry about additional payments to cover interest costs.
One thing to keep in mind is that some cards charge a fee to transfer your balance – this can typically range from 3-5%. A balance transfer can also be an incredibly powerful tool to consolidate your debt, but if you aren't carrying a balance from a high-interest card it doesn't need to be a major consideration when picking your next credit card.
Weigh Rewards and Fees
Rewards can be the flashiest part of any credit card offer. From airline miles to unlimited cash back, sifting through the broad array of rewards programs can be a daunting task. Here's a few things to consider when looking at a card's features to see if it's the right fit for you:
• Read the fine print. Not every card offers cash back no matter where you shop. Be sure to take a close look at the rewards details. If you rarely eat out, then extra rewards points at restaurants aren't going to do you any good. Likewise, if you're a frequent traveler then be sure to take a look at cards with rewards tailored towards maximizing your miles.
• Don't forget the annual fee. Some of the best rewards cards out there charge annual fees. While annual fees can have a bit of a stigma, credit card issuers generally work hard to make their rewards strong enough to justify the cost. There are also many cards out there with no annual fee, though their rewards might not be as impressive. Be sure to decide before applying if the specific rewards you're after are enough to make the fee palatable or if the right card for you has no fee at all.
• Know your credit score. It should come as no surprise that the better the rewards, generally the better your credit score has to be to get approved. A credit score is considered "prime" if it's above 660 and "superprime" if it's 720 or more – if you're looking for a top-of-the-line rewards program, you'll want your credit score to be in that range. Don't worry if your credit score isn't quite up to snuff – there are also plenty of cards out there to help you build your credit.
Bottom Line
The right credit card should be a tool in your financial toolbelt – the right combination of rewards, features and fees should all combine to work for you and fulfill your specific needs. Credit card offers are also always changing, so if you're in the market for a new card be sure to stay up-to-date with the latest offers and remember – the right card for you is out there, all you have to do it find it. Compare now.
This content was provided by CompareCards. Kiplinger is not affiliated with and does not endorse the company or products mentioned above.