How to Teach Your Children About Money
Here are three small lessons parents can put into practice for young children, and three more for older kids to grow on.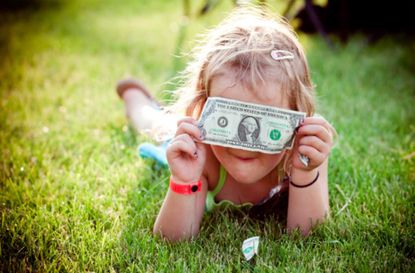 (Image credit: Stacy Vitallo)
Megan and Chad were determined not to repeat their parents' money mistakes. Neither was raised in a home that taught them much about how to handle finances. Megan's parents were spendthrifts. Chad's parents came from very modest backgrounds, living paycheck to paycheck.
The young parents knew they had the opportunity to break the cycle. They also let me know in no uncertain terms that they were committed to making sure their children got the financial education that they had missed.
Sensing their zeal, I cautioned them not to overreact.
Subscribe to Kiplinger's Personal Finance
Be a smarter, better informed investor.
Save up to 74%
Sign up for Kiplinger's Free E-Newsletters
Profit and prosper with the best of expert advice on investing, taxes, retirement, personal finance and more - straight to your e-mail.
Profit and prosper with the best of expert advice - straight to your e-mail.
Whenever I hear a young parent say they want to avoid a deficiency in the way they were parented, I fear an overreaction. A little bit goes a long way in this area with children.
With Young Children, Start Small
So here was my advice to Megan and Chad. When children are young (preschool, early elementary), keep it simple and concrete. They will likely have a very limited appreciation for the concept of money, so teach them a few basics that will carry over as they get older.
Teach them that money is limited.
Don't give them everything they ask for (even if you can afford it). An allowance is fine, but limit it. You want them to realize they have to make choices in how they spend their money. Some will even learn to save it, so they can buy more later. There are plenty of adults who have never learned this lesson!
Teach them that money is to be handled wisely.
I recommend an unorthodox teaching tool here: three glass jars. Label one "sharing," another "saving" and another "spending." You can pick your own ratios, but we used 10%, 20% and 70% as the amount of each dollar that went into each jar. The source of the jar funding might be allowance, gifts from grandparents or chore income.
Teach them that work has financial value.
Some chores are done simply because you are the member of the family. Those things might include making your bed, cleaning up after yourself and helping with larger clean-up duties on a Saturday morning. But it's also a great teaching opportunity to have some chores that may or may not be voluntary, but for which they get paid. Some parents resist this idea, but that is the ultimate arrangement in the world for which you are preparing your child. So why not help them understand it now?
Ramp Up Lessons as They Grow
As your children get older (middle and high school age), you can deepen their understanding and appreciation of the basics you taught them earlier.
Let them work more.
Your teen will learn a lot in an afternoon or summer job. It may be babysitting, housekeeping, lawn mowing, lifeguarding, golf caddying, working at a retail store or working in food service. The summer before I went to college, I worked in a factory stacking sheet metal. I think, mostly out of sheer fear that I might have to do that the rest of my life, I made a 4.0 my first quarter in college.
Let them pay for more.
You'll probably pay for the basics as long as they are under your roof. But as your teen gets older, their tastes may both expand and get more expensive. It's a great idea to explain to them what you will provide (food, clothing and shelter are the three biggies), and what they will need to provide for themselves through their own work. Examples might include some clothing, entertainment, music, a smartphone or recreational activities.
Let them choose more.
Your children need to learn that as they demonstrate greater responsibility and maturity, they earn the right to make more and more choices for themselves. While I am not advocating an abdication of parental duties just because your kid starts working, you need to realize their time under your roof is limited. So if the only way you can guide their choices is through force, you've got other issues than financial ones.
A Successful Transition
As your child matures, you'll gradually transition from being in total control of what they do to being able to offer some influence over the choices they make. They will also transition from needing that control (younger children) to wanting to be more and more independent (teenagers).
Money offers a great venue for both parent and child to learn as they both go through the transition together.
Your thoughtful plan for how you will teach your child about money is one of the best investments you'll ever make.
This article was written by and presents the views of our contributing adviser, not the Kiplinger editorial staff. You can check adviser records with the SEC or with FINRA.
Certified Financial Planner, Argent Financial Group
Byron Moore, Managing Director, Planning Group, Argent Financial Group (opens in new tab), helps clients protect, grow and enjoy their wealth by designing and implementing financial strategies that coordinate and balance a client's resources. His financial columns are syndicated in five Gannett newspapers in Louisiana. Byron has been a Certified Financial Planner® practitioner since 1991. He and his wife, Melinda, have four children. They are why he smiles a lot.