Medicare vs. Medicare Advantage: Ill Health Often Leads to Plan Switch
The drawbacks of Medicare Advantage plans can become apparent when serious illness or injury strikes.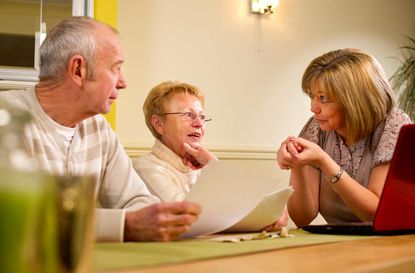 (Image credit: MartinPrescott)
Medicare Advantage plans are attracting seniors with their appealing price tags and promise of comprehensive health coverage in one convenient package. But are these plans actually a disadvantage for people with serious health problems?
That's the question raised by a string of recent studies. A 2017 review by the U.S. Government Accountability Office, for example, found that in some Advantage plans, enrollees in poor health were substantially more likely to dump the plan than those in good health. A recent study by Brown University researchers found that Medicare Advantage enrollees are more likely to enter lower-quality nursing homes compared with people on original Medicare. Earlier studies have also found that people using high-cost services such as nursing-home care disproportionately switch from Medicare Advantage to original Medicare.
Medicare Advantage "tends to work for people when they are relatively well," says Judith Stein, executive director of the Center for Medicare Advocacy. "But if they become ill or injured and really need a significant length of care, they're not as well served."
Subscribe to Kiplinger's Personal Finance
Be a smarter, better informed investor.
Save up to 74%
Sign up for Kiplinger's Free E-Newsletters
Profit and prosper with the best of expert advice on investing, taxes, retirement, personal finance and more - straight to your e-mail.
Profit and prosper with the best of expert advice - straight to your e-mail.
Yet seniors are flocking to Medicare Advantage—plans offered by private companies that contract with Medicare. Many of these plans combine basic Medicare coverage with drug, dental and vision coverage, and the premiums are often cheaper than combining original Medicare Part B, a Part D prescription-drug plan and a supplemental "medigap" policy. In 2017, roughly one-third of all Medicare beneficiaries were enrolled in an Advantage plan, up from 13% in 2004.
"There's a reason enrollment in MA plans continues to increase year over year: It works," says Cathryn Donaldson, spokesperson for America's Health Insurance Plans, which represents insurers offering Advantage plans. Advantage enrollees, she says, "are receiving better care, better service and better value."
The studies questioning Advantage plans' benefits for sicker patients are piling up at a time when the Centers for Medicare and Medicaid Services, the federal agency that administers the Medicare program, is making a fresh push to drive Advantage enrollment even higher. The top objectives listed in a CMS "communications plan" for last fall's open-enrollment period include putting "renewed emphasis on MA plans."
Recent CMS training material designed for organizations that help seniors navigate Medicare also emphasizes Medicare Advantage over original Medicare. One section listing beneficiaries' options during open enrollment says that they can join or switch a Medicare prescription-drug plan or join or switch a Medicare Advantage plan—but makes no mention of the fact that beneficiaries can also choose original Medicare.
A CMS spokesperson says the agency has made "several consumer-friendly improvements" to help beneficiaries "make an informed choice between original Medicare and Medicare Advantage," including changes in the Medicare & You handbook to better explain coverage options.
To be sure, some studies have found benefits for Medicare Advantage enrollees, including greater use of preventive care services. But for people in poor health, the evidence on health care access and quality decidedly favors original Medicare over Medicare Advantage, according to a Kaiser Family Foundation review of 40 studies published between 2000 and 2014.
Limited Medicare Advantage Networks an Obstacle for Sick
Of course, many people are in excellent health when they initially sign up for Medicare—and the drawbacks of Medicare Advantage may only become apparent when health declines. Advantage plans have limited networks of providers, and enrollees going out of network face higher costs.
Patients' inability to access their preferred doctors or hospitals is a factor driving sicker enrollees to dump Advantage plans, according to the GAO study. The GAO studied 126 Advantage plans and found that in 35, sicker people were substantially more likely than healthier people to disenroll.
Advantage plans' limited provider networks may also contribute to the gap in nursing-home quality between Advantage plans and original Medicare, the Brown University researchers found. (Medicare will cover nursing-home care if you need skilled nursing after a hospitalization—but not if you only need help with daily activities such as bathing and dressing.) The researchers studied all Medicare beneficiaries newly admitted to a nursing home between 2012 and 2014. Even after controlling for factors such as where patients live, those on Medicare Advantage were substantially more likely than those on original Medicare to enter lower-quality nursing homes—those rated three or fewer stars on Nursing Home Compare, the comparison tool available to consumers at Medicare.gov.
Because they have more options, original Medicare beneficiaries may be more influenced by such quality measures, according to the study. Advantage enrollees, however, may have few choices or simply be assigned a nursing home by their plan, says David Meyers, a doctoral student at Brown and co-author of the study.
When Wendell Potter's mother broke her hip and needed rehabilitation in 2011, her Advantage plan's network included only one nursing home in her home area of eastern Tennessee. In the facility, she made little progress and developed bedsores that didn't heal, Potter says. And within a few weeks, the Advantage plan's utilization management nurse told Potter that his mother was unlikely to recover and that she wouldn't be eligible for further skilled nursing care.
Potter, a former insurance company executive turned industry whistleblower, had originally encouraged his parents to enroll in Medicare Advantage—but as his mother faced the coverage cutoff, he helped her switch to original Medicare and move to a new facility. There, "the care they gave her was lifesaving," he says. Although she suffers from dementia, she's still relatively healthy at 93, Potter says, and "she has lived some additional years that I'm certain she wouldn't have" were it not for the switch.
AHIP's Donaldson says the Nursing Home Compare rating system is "fundamentally flawed." The Brown researchers acknowledge studies that have questioned the link between higher star ratings and better patient outcomes, but they argue that the star ratings "still provide a useful summary" of nursing-home quality.
Switching Coverage Between Original Medicare and Medicare Advantage
When deciding between original Medicare and Medicare Advantage, "you need to choose as if you will get sick and you might get injured," Stein says. Consider whether your preferred doctors and hospitals are included in the Advantage plan's network and how much you intend to travel. If you need care outside your home area, Advantage plans will typically only cover that in an emergency, whereas original Medicare coverage is available throughout the U.S.
If you are enrolled in a Medicare Advantage plan and want to switch to original Medicare, you can—but there may be complications. During the annual open-enrollment period, which runs from October 15 to December 7, you can switch to a new Advantage plan or to original Medicare. And starting in 2019, during the first three months of the calendar year, Medicare Advantage enrollees can switch to a different Advantage plan or choose original Medicare. (This is a change from prior years, when Advantage enrollees could switch plans between January 1 and February 14.)
The real trouble may start if you try to switch from Medicare Advantage to original Medicare and want to pick up a medigap policy to limit your out-of-pocket costs. In many states, you are only guaranteed the ability to buy a medigap policy under limited circumstances, such as when you initially become eligible for Medicare or within 12 months of signing up for an Advantage plan. At other times, you may be subject to medical underwriting—and you may not be able to get a medigap plan at all.
People in this predicament should consider whether they might qualify for a Medicare Savings Program, says David Lipschutz, senior policy attorney at the Center for Medicare Advocacy. These programs can help cover Part B premiums and in some cases deductibles and co-payments. Income and asset-based eligibility requirements vary by state. To find out if you might qualify, contact your state health insurance assistance program.
If you can't get a medigap plan and don't qualify for other money-saving options, consider whether a different Advantage plan might better meet your needs. Before making a move, scrutinize the doctors, hospitals, nursing homes and home health agencies included in the plan's network.

Senior Editor, Kiplinger's Retirement Report
Laise covers retirement issues ranging from income investing and pension plans to long-term care and estate planning. She joined Kiplinger in 2011 from the Wall Street Journal, where as a staff reporter she covered mutual funds, retirement plans and other personal finance topics. Laise was previously a senior writer at SmartMoney magazine. She started her journalism career at Bloomberg Personal Finance magazine and holds a BA in English from Columbia University.