Afraid to Retire? How to Put Those Fears to Rest
Second-guessing your decision to finally retire is an all-too-common occurrence, even for the wealthy and well-prepared. When the worries start to stack up, here's how to knock them down.
I spoke recently with a successful corporate executive who has been planning her retirement for several years. But as the date drew closer, she began to worry about several possible scenarios that could derail her plans. Her concerns ranged from how to pay for an unexpected health scare to the impact of a stock market crash.
Even though she has several million dollars in her portfolio, she wonders if she could end up on the streets with virtually nothing. Her conclusion: Maybe she really isn't ready to retire after all.
What's Really Behind These Fears
Many senior executives and business owners have been planning to retire for years. Yet, as they get closer to that magic date, anxiety about a wide range of issues often makes people question their decision to quit working.
Subscribe to Kiplinger's Personal Finance
Be a smarter, better informed investor.
Save up to 74%
Sign up for Kiplinger's Free E-Newsletters
Profit and prosper with the best of expert advice on investing, taxes, retirement, personal finance and more - straight to your e-mail.
Profit and prosper with the best of expert advice - straight to your e-mail.
Even though they've saved plenty of money, they may find it hard to make the transition into this new way of life. They can't remember when they didn't have a paycheck coming in and start to fear that something will wreak havoc in their life that will completely scuttle their investment savings.
While I help people understand that their financial plan is built for the long haul, it's often helpful to step out of the numbers and address their fears. I've discovered that when a person makes a transition into retirement, they are often confronted with the reality that money management is not a math problem, it's a battle "between the ears." So, we need to connect the technical knowledge about finances with their personal fears to help them focus on what matters most to them.
How to Get Past Your Worries
One exercise I use to make this connection is to ask a client to simply name their fears. For the soon-to-be retiree, I ask: What about retirement makes you fearful? What do you fear will happen if you stop working? Writing down all of their potential concerns helps move them from abstract unknowns to potentially actionable areas.
Next, we assess the likelihood of each of those fears coming to fruition. Regardless of our life success and education, people agonize over incredibly remote issues. This assessment helps to extinguish fears of possibilities that have little chance of harming us. Last, determine your level of control you have. Sometimes knowing you have no control over a circumstance gives us the freedoms to see it clearly. For example, we have no control over a stock market decline, but we can prepare for it and respond appropriately.
For the female executive worried about several possible scenarios that could derail her retirement, we listed each concern and addressed them one by one. Here is her chart and how we went about helping her overcome her fears:
Swipe to scroll horizontally
| Financial Fear | Likelihood | Level of Control |
| --- | --- | --- |
| Afraid to Spend Money | Possible | High |
| Stock Market Crash | Possible | Low |
| Health Issues | Possible | Medium |
| Become Destitute | Remote | Very High |
One by one, we went through the list. For example, when it came to her fear about spending money, we discussed the fact that we have worked together to develop a responsible and sustainable budget. While a stock market crash is certainly possible — and it's not something any of us can control — her investment portfolio was positioned appropriately to weather a decline and provide her the consistent income she needed for retirement. Similarly, she had plans in place to cover health problems, including a strong long-term care policy to cover the biggest risk to her wealth.
When we were finished, she felt an immediate sense of relief. It became clear that through planning she had control over her life and was prepared to withstand a variety of problems.
Letting Go and Moving Forward
Going through the process is cathartic for many people, especially executives and business owners who have spent a lifetime building a career, an identity and their wealth. They sense that retirement will leave a void in their lives and while they cite financial issues as a reason to hang on, they are really seeking another outlet for their creative thinking and entrepreneurial spirit.
Make no mistake, there are financial issues, too. These successful people have earned six-figure incomes — and maybe more — for decades. But for the first time in many years, they will need to live off of the income from their portfolio.
For example, a person with $2.5 million in investment assets will likely need to live on approximately $125,000 annually for the rest of their lives. There's a strong likelihood that they earned much more than this amount in recent years and didn't think twice about their spending habits. Of course, they will need to make and live on a budget – something they probably haven't done for a long time.
But the numbers are the easy part of planning for a thriving retirement. By naming fears, assessing their ability to harm us, and putting a plan in place to prepare for their impact, anyone is better prepared for retirement – both financially and emotionally.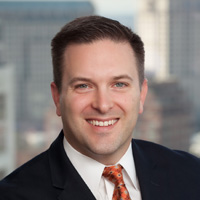 Partner & Wealth Adviser, CI Brightworth
Charlie Jordan is a partner and wealth adviser at CI Brightworth providing comprehensive investment and wealth planning advice to high net worth individuals and families. His passion for integrating retirement, estate and charitable giving strategies allows his clients to do retirement well and focus on what matters most to them.