How to Choose a Memory Care Unit
Advice on how to choose the right care facility for a loved one with dementia.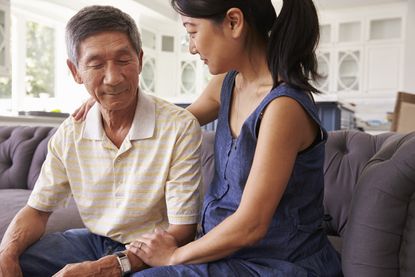 (Image credit: monkeybusinessimages)
When a loved one with dementia can no longer live at home, you may want to seek out a residential facility that specializes in memory care. But how do you know if a facility offers more than just a fancy label and a premium price tag?
But academic research on the benefits of memory care units has drawn mixed conclusions. A mid 1990s study of more than 77,000 nursing-home residents found that there was no significant difference in the speed of decline between those living in memory care units and those living in traditional nursing homes. A 2007 study of about 70,000 nursing-home residents painted a brighter picture, finding that memory care residents were less likely to have bed rails and to be tube fed than traditional nursing-home residents. But the study also found that memory care residents were more likely to be given psychotropic drugs.
To start your search for a facility, first focus on the one factor that patient advocates say can all but guarantee better outcomes: proximity to family and friends. The task is not just to choose a good facility, "but also being there on a regular basis and being very involved," says Ruth Drew, director of family and information services at the Alzheimer's Association. To find facilities in your area that offer memory care, go to CommunityResourceFinder.org.
Subscribe to Kiplinger's Personal Finance
Be a smarter, better informed investor.
Save up to 74%
Sign up for Kiplinger's Free E-Newsletters
Profit and prosper with the best of expert advice on investing, taxes, retirement, personal finance and more - straight to your e-mail.
Profit and prosper with the best of expert advice - straight to your e-mail.
Do In-Person Research
When you have narrowed down your choices, make multiple visits to each facility—including unscheduled visits at night or on weekends, when the staff is more likely to be stretched thin. Is the facility clean? Does the food look appetizing and taste good? Is there adequate staff to assist those who need help eating? Are there residents calling out who are being ignored?
Ask about the staff-to-resident ratio and the level of staff turnover. Memory care facilities should have at least one staff member for every five residents, McFatrich says. "If you don't have that, you end up with people placed in front of the television," she says. If there's a high level of staff turnover, "that's a very bad sign," Spiegel says, because people with dementia tend to respond better to familiar routines and consistent caregivers. Ask about the type and amount of training the staff receives, both initially and on an annual basis. In the memory care unit at Senior Star at Weber Place in Romeoville, Ill., even the food-service staff receives dementia-specific training, says executive director Tom Johnsrud, so that "all staff in that community are engaged with the resident."
Look for signs that the facility is responding to individual residents' needs—not forcing them into a fixed routine. At Aspen House in Loveland, Colo., one resident was always distracted and walking around during meal times. So "we put her food in ice cream cones, and she could walk around and eat," says Jean Cannon, executive director. "You can put anything in an ice cream cone, even spaghetti." For another resident, an iPod playing familiar music helped her focus long enough to eat her meal, Cannon says.
Make sure the facility offers activities that can keep your loved one engaged—even at night, when many dementia sufferers are awake. Mandy Otto, life enrichment director at Cambrian Senior Living in Tecumseh, Mich., watched her own grandfather rapidly deteriorate in a facility where "there wasn't anything for him to do," she says. "He was bored." At Cambrian, residents help tend a garden with raised beds and pick the tomatoes that are served with their meals. "Just the act of doing" is important, Otto says. "You're still making a contribution."
Ask how the facility responds to residents who may wander or become aggressive. If the answer is locked doors and antipsychotic drugs, that's a red flag. Facilities should have a circular corridor, an enclosed outdoor area or other spaces that let residents roam freely. And they should provide enough individual attention to detect hunger, pain and other common triggers for aggression, rather than resorting to drugs, Cannon says. (Read New Ways to Help Dementia Patients.)
Because transitions can be unsettling for dementia sufferers, make sure that your loved one will be able to remain at the facility for the foreseeable future. In some states, assisted-living facilities can't provide complex medical care, so residents who need skilled nursing may have to leave—or the facility may contract with a home health nurse to provide care, at additional cost. Ask what health conditions might require your loved one to leave the facility or move to a higher—and more expensive—level of care within the facility. And find out if the facility accepts Medicaid. If not, a resident who runs out of money may be forced to move. In 2015, the median monthly cost of memory care was $5,140, versus $3,948 for assisted living, according to A Place for Mom, a senior housing referral service.
To be sure a facility has been treating residents well, talk with family members of residents at different stages of dementia about their experience with the facility. Go to www.ltcombudsman.org to find your state's long-term-care ombudsman, who can tell you about any problems with the quality of care or management of a facility. For memory care units housed within skilled-nursing facilities, go to Medicare.gov and click "find nursing homes" to see star ratings for a nursing home's health inspections, staffing and other measures. If the unit is within an assisted-living facility, contact the state licensing agency (which is often the state health department) for information on inspection reports and any sanctions against the facility.

Senior Editor, Kiplinger's Retirement Report
Laise covers retirement issues ranging from income investing and pension plans to long-term care and estate planning. She joined Kiplinger in 2011 from the Wall Street Journal, where as a staff reporter she covered mutual funds, retirement plans and other personal finance topics. Laise was previously a senior writer at SmartMoney magazine. She started her journalism career at Bloomberg Personal Finance magazine and holds a BA in English from Columbia University.