3 Common Home Insurance Gaps to Fill
Make sure your policy provides enough coverage to protect your home and belongings.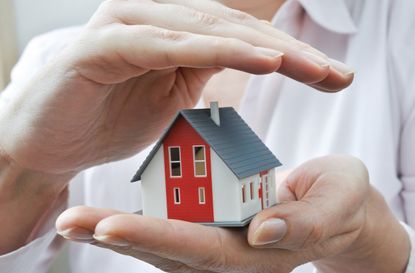 (Image credit: Getty Images/iStockphoto)
You may already know that homeowners insurance doesn't cover flood damage or sewage backup (see Insurance Coverage for Summer Storm Damage). But what about things your policy covers, but might not cover sufficiently?
Try our new tool, in partnership with Bankrate, to compare home insurance rates today.
Replacing your home. In the event of a disaster that leads to a total loss, your policy pays up to the dwelling limit. If that's less than the cost to rebuild your home, you have to make up the difference. Your insurer estimates the cost to rebuild, but to make sure its estimate is accurate, use an online calculator, available at sites such as www.hmfacts.com ($7) and www.accucoverage.com ($8). To get full replacement coverage for partial losses, most insurers require you to have a policy with a dwelling limit of 80% or more of the insurer-estimated cost to rebuild, notes Bill Wilson, associate vice-president of the Independent Insurance Agents & Brokers of America.
Your policy should include an inflation guard clause keyed to regional costs that adjusts your coverage every year. Also, make sure your policy has extended replacement cost -- ideally, for 20% to 25% above the dwelling limit; you can add it as an endorsement for about $50. If you have to rebuild your home to bring it up to current code, you'll need ordinance and law coverage. You should be able to bump up your coverage to 25% of the dwelling limit for about $50 a year.
High-value belongings. All policies cover your personal property, typically up to 50% of your dwelling limit. But policies generally limit reimbursement for jewelry, silverware and collectibles, such as stamps and coins, to $1,000 to $2,500. Most policies cover you if items are stolen but not if they are lost or damaged. Plus, they pay out actual cash value (depreciated based on the age of the item) rather than replacement cost.
If you buy a rider ($10 to $20 per $1,000 in coverage a year for jewelry and silver, for example), you can collect the replacement cost if you file a claim. It also eliminates the deductible and covers mysterious disappearance and breakage for fragile items.
Home office. Most homeowners policies limit coverage for business equipment to $2,500 and provide no liability coverage for business use of your home. If you have clients or delivery people coming to your home office regularly, or you have more than $2,500 in equipment used for business, you'll need more coverage. A separate home-office policy can provide liability and contents coverage for a couple hundred dollars a year.

Associate Editor, Kiplinger's Personal Finance
Anderson has been with Kiplinger since January 2004, when she joined the staff as a reporter. Since then, she's covered the gamut of personal finance issues—from mortgages and credit to spending wisely—and she heads up Kiplinger's annual automotive rankings. She holds a BA in journalism and mass communication from the University of North Carolina at Chapel Hill. She was the 2012 president of the Washington Automotive Press Association and serves on its board of directors. In 2014, she was selected for the North American Car and Truck Of the Year jury. The awards, presented at the Detroit Auto Show, have come to be regarded as the most prestigious of their kind in the U.S. because they involve no commercial tie-ins. The jury is composed of nationally recognized journalists from across the U.S. and Canada, who are selected on the basis of audience reach, experience, expertise, product knowledge, and reputation in the automotive community.