How To Find a Financial Adviser You Can Trust
The financial industry is generally clouded by an atmosphere of distrust, but with the new fiduciary rule and doing your due diligence, you can find the right person for you.
Bernie Madoff. Hard-driving insurance salespeople. Fast-talking advisers whose services you're neeeever quite sure of. There are plenty of reasons to distrust financial professionals.
The truth is that a financial adviser can help you profoundly improve your life. But you need to trust your adviser to get there. And how can you trust a financial adviser, when the whole industry seems so… untrustworthy?
Introducing the Fiduciary Rule
There are, of course, the outright criminals. But I'm more concerned with the legal behavior that under-serves clients and undercuts their financial ambitions—the adviser who:
Subscribe to Kiplinger's Personal Finance
Be a smarter, better informed investor.
Save up to 74%
Sign up for Kiplinger's Free E-Newsletters
Profit and prosper with the best of expert advice on investing, taxes, retirement, personal finance and more - straight to your e-mail.
Profit and prosper with the best of expert advice - straight to your e-mail.
puts you in Mutual Fund X because it pays her a commission instead of the cheaper, equally good Mutual Fund Y, which gets her no commission;
recommends that you buy a variable annuity "for the tax benefits" even though you haven't yet maxed out your tax-deferred retirement plan; or
charges you 1% of your assets to manage your portfolio, doesn't provide any service beyond investments and doesn't take the time to explain how you're invested or why.
The Department of Labor has imposed a new regulation to impose the fiduciary standard on employer retirement accounts, and huge swaths of the industry are freaking out.
Being subject to a fiduciary standard means that an adviser has to put her client's interests ahead of her own. Sounds great, right?
Registered Investment Advisors are already subject to the fiduciary standard. Brokers, however, are subject to the less-restrictive "suitability" standard, which requires they make "suitable" recommendations to clients (such as Mutual Fund X, from above) even if a better one exists.
Why are major financial professional organizations and companies flipping out? They're saying, "We can't possibly continue to provide clients financial advice if we have to put their interests before our own." If serving your clients first is a death knell, I think your business model needs some work.
Adviser-Client Mismatch
And then there are the advisers who provide a good service—but one that simply isn't right for you. Maybe you and your adviser started out in sync and grew apart, or maybe you were so desperate or uncertain you went with an adviser who simply didn't provide what you needed. A feeling of distrust can grow simply because of that mismatch, and really, it's no more your adviser's fault than your own.
The Importance of Trust
Without trust, your financial planning relationship is useless.
You and your adviser will spend hours together, talking about your finances, what you want to accomplish, what makes you worry, what excites you. Your adviser will spend many more hours working on your behalf. Then your adviser will make recommendations that she believes will best help you improve your life.
But if you don't trust your adviser, you won't implement those recommendations. And if you don't implement those recommendations, nothing will change. So what's the point?
Not to mention it's just plain unpleasant working with someone you don't trust.
Follow these four steps to find a financial adviser who is a good fit for you and who you can trust:
Step 1. Get a list of at least three advisers.
Get a referral from a friend, family member or co-worker. Or use the online tools from fee-only professional organization such as the XY Planning Network or the National Association of Personal Financial Advisors (full disclosure: I'm an associate member of the former).
Step 2. Interview your potential advisers.
Why? You have to interview several to get a feel for the range of personalities, processes and philosophies.
How? A few questions you should ask a planner: Who does the adviser work with or specialize in? What services does the adviser provide? How is the adviser paid? And NAPFA provides its own suggestions to learn about an adviser's background and experience, services, compensation and more. These guidelines will help you suss out how well the advisor matches your needs.
Step 3. Choose one.
Go with the adviser that not only fits your financial needs but also the adviser you like. Yes, this is a "gut" thing. I believe in the gut (just not when it comes to making investment decisions or cheap pizza).
Step 4. Keep checking in with yourself.
Remember to do this throughout the planning relationship. Have your needs changed? Has the adviser's service? Do they no longer match? Choose someone you trust, but don't abdicate responsibility; it's your money after all.
Meg Bartelt, MSFP, is the President of Flow Financial Planning, LLC, a fee-only virtual firm that provides financial guidance to women in tech. She is a member of the XY Planning Network.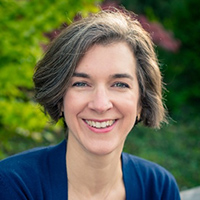 President, Flow Financial Planning, LLC
Meg Bartelt, CFP®, MSFP, is the president of Flow Financial Planning, LLC, a fee-only virtual firm that provides financial guidance to women in tech. She is a member of the XY Planning Network.