How to Make Your Older Car Smarter, Safer
A lot of today's automotive gee-whiz can be adapted to yesterday's wheels.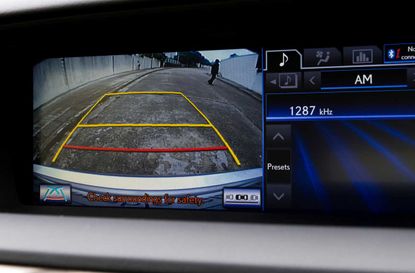 (Image credit: © Teddy Photography. All rights reserved.)
The latest automotive technologies can activate the brakes if you're about to crash, warn you when a car is in your blind spot and even guide you into a parallel parking space—not to mention connect you to the Internet and control your in-cabin environment with a snazzy touch screen. But what if you're not ready to spring for a new ride, or you skimped on the options when you made a recent purchase? Can you pick up features like these in the aftermarket?
We found a few add-ons worth considering—and one we'd skip.
Backup camera. Rearview cameras help drivers avoid collisions when backing up (they'll be required on all new cars sold by May 2018). A side benefit of a backup camera is that it makes parallel parking, the bugbear of many drivers, a whole lot easier.
Subscribe to Kiplinger's Personal Finance
Be a smarter, better informed investor.
Save up to 74%
Sign up for Kiplinger's Free E-Newsletters
Profit and prosper with the best of expert advice on investing, taxes, retirement, personal finance and more - straight to your e-mail.
Profit and prosper with the best of expert advice - straight to your e-mail.
Many aftermarket cameras come built into a frame that you can easily bolt onto your license plate, but hooking them up is tricky. You'll need to find the wire for your backup lights to power the camera, then run wire under panels to get the camera's signal to your dashboard. If you're up for that—or willing to pay someone else to do it—take a look at the EchoMaster MRC-LP01CP ($200), which displays video on a screen in a replacement rearview mirror. Another option is to get a wireless camera, such as the Boyo VTC424R ($150). The Boyo comes with a stand-alone screen that you can mount on your dash using an adhesive bracket or on your windshield with a suction cup. EchoMaster installation runs about $200; the Boyo is cheaper to install.
Infotainment system. This new-tech recommendation may sound like an old standby: Replace your car radio. But you'll be gunning for a system with a big screen that can link to your phone (with Apple Car Play, for example), provide GPS navigation and even serve as a display for a backup camera.
The Jensen VX7020 ($350) includes GPS, Bluetooth and a DVD/CD player, all displayed on a 6.2-inch touch screen. (No, you can't watch movies while moving.) At Best Buy and other auto sound shops, you'll pay about $100 for installation. Before you pick a system, check the website of Crutchfield, an online electronics retailer that has decades of experience finding what fits which dash. To make installation easier, Crutchfield also offers adapter kits (often free with a purchase).
Internet access. The Zubie ($99, plus $10 a month) gives you a Wi-Fi hot spot that lets you, say, stream Modern Family to the kids in the backseat. It also lets you access data on where your car is and how safely it is being driven—something parents of a teen might find useful.
You plug the Zubie into your car's OBD port under the dash (every vehicle made since 1996 has one). The device taps into a data stream from your car's engine. To that it adds an accelerometer, which can detect hard stops and starts, and a GPS unit that knows where the car is. All that information is uploaded to the cloud, so you can monitor it from your phone or computer.
If you're a Verizon subscriber, you can add the Zubie as if it were another phone. The Delphi Connect is similarly priced and also works with Verizon plans.
Collision warning. The Garmin nüviCam LMTHD ($400) is a dashboard camera that offers "driver awareness features," alerting you with sound and visual cues if you drift out of your lane or come too close to the vehicle ahead. Because it's a camera, its view is vulnerable to rain, fog, snow, glare and faded lane markings. I found the forward-collision warnings mildly useful, but the lane-departure warnings came too late, or not at all. The device also has navigation, but you're probably better off sticking with a smartphone app.

Former Senior Online Editor
In his former role as Senior Online Editor, David edited and wrote a wide range of content for Kiplinger.com. With more than 20 years of experience with Kiplinger, David worked on numerous Kiplinger publications, including The Kiplinger Letter and Kiplinger's Personal Finance magazine. He co-hosted Your Money's Worth, Kiplinger's podcast and helped develop the Economic Forecasts feature.