How to Protect Your Home from Hurricanes
Hurricane season begins June 1, and scientists at Colorado State University expect 2018 to be another big year, forecasting seven hurricanes—three of them major.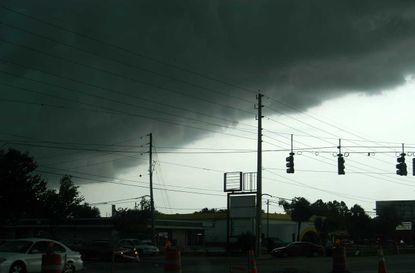 (Image credit: Getty Images)
Hurricane season begins June 1, and scientists at Colorado State University expect 2018 to be another big year, forecasting seven hurricanes—three of them major. (In 2017, there were six major hurricanes, with Hurricanes Harvey, Irma and Maria doing lasting damage.)
You can reduce the risk of costly damages by strengthening your home against the destructive forces most likely to affect your area of the country. By doing so, you'll increase the likelihood that your home will survive the worst that nature throws at it. And depending on your state, municipality and insurer, you may qualify for grants or insurance-premium discounts to offset part of the cost.
More of us might be in hurricane danger than realize it. Here are steps you can take to minimize the damage from storms.
1/4
Keep Your Lid On
Wind and rain are the obvious hazards of a hurricane, and your roof is going to take the biggest stress. That's not actually because of water falling down on the roof — rather, it's the risk of air pressure blowing the roof off if a door or window gets compromised.
The best time to add protection to an existing home is when you replace the roof. A few inexpensive upgrades can make a big difference. The Insurance Institute for Business and Home Safety outlines a series ot standards (which earn a discount from many insurers):
The bottom layer—the plywood roof deck—is held on by special "ring shank" nails.
The next layer seals the roof deck with a membrane or special tape.
Properly sealed storm-resistant shingles form the top layer.
Installing flashing anywhere the roof changes slope also helps.
SEE ALSO FROM KIPLINGER: Your Tree, Your Neighbor's Property: Whose Insurance Pays?
2/4
Roof Retrofits
Even if you aren't replacing the roof, you can do a lot from the inside. Roof straps, metal connectors or retrofit clips are among the options. "That can provide extraordinary uplift protection," says Leslie Chapman-Henderson, CEO of the Federal Alliance for Safe Homes.
There are also techniques involving nailing, gluing, and using spray-foam insulation that can help ensure your roof stays put. And pay special attention to your eaves and gables. This is where wind pressures (from the outside) can stress your roof the most.
SEE ALSO FROM KIPLINGER: What You Need to Know About Windstorm Coverage
3/4
Windows and Doors
As we mentioned, the greatest danger to your structure is wind getting in a window or door and turning your house into a balloon. Keeping the roof connected depends on the horizontal openings remaining intact — and that's a challenge, given the debris that can be flying around in hurricane-force winds.
You can protect your windows with storm shutters, 5/8-inch plywood or thick plastic shields. And don't think you can just run around to the hardware store and buy a bunch of plywood last minute. If you go the route of temporary covers rather than permanent storm shutters, make sure you've sized them and have secure mountings ahead of time. Plus, if they're plywood, you'll need to find a place to store them where they won't warp. Or you can install replacement windows with impact-resistant glass. "Every opening on your home needs to have one of those levels of protection," says Scott Koedel, CEO of Don Meyler Inspections, which conducts windstorm mitigation inspections in Florida.
Look for wind-rated and impact-tested doors, and be particularly careful with your garage door, which is often the largest and weakest opening. Even if you aren't replacing the garage door, you can buy a kit to brace it. Also check all exterior door frames to make sure the screws are tight and the deadbolt reaches all the way into the door frame.
SEE ALSO FROM KIPLINGER: 10 Things to Know About Hurricane Insurance Claims
4/4
Paying for All This
In Florida, where discounts are mandated for certain improvements, home insurance premiums can vary by 400% depending on the windstorm protections, says Chris Heidrick, an independent insurance agent in Sanibel, Fla. He recommends paying about $100 to $250 for a windstorm inspection to find out what you can do to protect your home and get a discount, even if you don't live near the coast.
In other states, the discounts vary by insurer. Chubb clients in some areas can save up to 50% off their home insurance premiums by installing wind-mitigation features, such as storm shutters, wind-resistant roofs and tie-downs, and a permanent home generator. In some states, USAA, Farmers and Travelers offer discounts for homes that meet the IBHS Fortified standards or for adding certain features, such as storm shutters.
Some states have grant programs to help cover wind-mitigation costs. For example, Alabama and South Carolina provide grants to strengthen roofs in some areas. Ask your state insurance department or emergency management agency about programs.
SEE ALSO FROM KIPLINGER: Getting Affordable Flood Insurance
Contributing Writer, Kiplinger's Personal Finance
Esswein joined Kiplinger in May 1984 as director of special publications and managing editor of Kiplinger Books. In 2004, she began covering real estate for Kiplinger's Personal Finance, writing about the housing market, buying and selling a home, getting a mortgage, and home improvement. Prior to joining Kiplinger, Esswein wrote and edited for Empire Sports, a monthly magazine covering sports and recreation in upstate New York. She holds a BA degree from Gustavus Adolphus College, in St. Peter, Minn., and an MA in magazine journalism from the S.I. Newhouse School at Syracuse University.