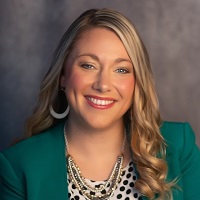 Lindsay N. Graves, Esq.
Partner/Owner, The Graves Law Firm
Lindsay Graves, founding partner of The Graves Law Firm, is passionate about assisting families through the challenges of the aging process to ensure dignity and financial preparedness with a comprehensive and compassionate approach. Her law firm focuses on helping clients to articulate their goals for asset preservation and long-term care and making them a reality, avoiding bankruptcy and securing wealth for loved ones. Lindsay and her team pride themselves on building and maintaining long-lasting relationships with their clients and families.
Lindsay earned her Juris Doctorate from DePaul University in Chicago, where she served as law clerk for a renowned elder law firm representing clients in the areas of wills, trusts and guardianship. While at DePaul, she was honored to be elected to the Student Bar Association and was selected to compete on the school's mock trial team. She studied internationally, being taught by the Honorable Chief Justice of the United States Supreme Court, John Roberts, at the University of Innsbruck's Institute of World Legal Problems in Innsbruck, Austria. Her undergraduate degree is a B.S. in Business from the Miami University Farmer School of Business, where she graduated with honors.
Phone: (330) 915-8010 | Email: lgraves@graveselderlaw.com | Website: www.graveselderlaw.com
Facebook: www.facebook.com/GravesElderLaw