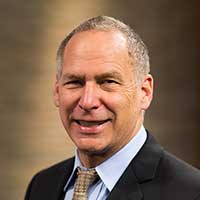 David A Littell, JD, ChFC
Professor of Taxation, The American College of Financial Services
Dave Littell is the co-creator of the Retirement Income Certified Professional® (RICP®) program and a Professor of Taxation at The American College of Financial Services. He focuses on retirement income process, strategies and solutions to increase retirement security for consumers, business owners and their advisers through digestible retirement education.
His most recent work with his Retirement Income Roadmap details the steps needed to create a customized retirement strategy based on his 35 years working through the pitfalls and opportunities of retirement planning.
A native of Chicago, Professor Littell holds a BA degree in psychology from Northwestern University and earned his JD at the Boston University School of Law. He is also actively involved in the sport of fencing, was a member of the 1988 U.S. Olympic Fencing Team and was a fencing coach at Haverford College from 1999 to 2006.
Phone: 610-453-0466
E-mail: david.littell@theamericancollege.edu
Website: www.theamericancollege.edu/