The $10,000 Question: How to Cover Child Care
Creative solutions are out there to cut the high price parents pay to make sure their little ones are cared for while they're hard at work, bringing home the bacon. Nanny sharing, anyone?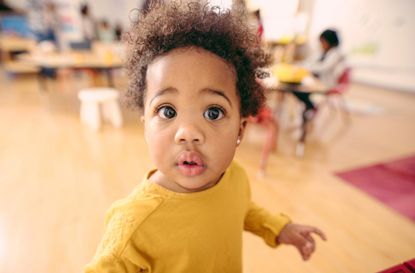 (Image credit: This content is subject to copyright.)
Making a go in the professional world is difficult while taking care of a family. While parents work eight or more hours a day, we need to know that our kids are well cared for in our absence.
However, parents often have to make sacrifices to cover the cost of child care. The average price for day care for infants is $10,468 per year, according to 2016 Care.com member data (opens in new tab), but it can range above $20,000. The average for toddlers is $9,733, with a top range of over $18,800. And the average cost of a nanny for one child is $28,905, with a range of about $27,000 to nearly $33,000.
What is a frazzled parent to do?
Subscribe to Kiplinger's Personal Finance
Be a smarter, better informed investor.
Save up to 74%
Sign up for Kiplinger's Free E-Newsletters
Profit and prosper with the best of expert advice on investing, taxes, retirement, personal finance and more - straight to your e-mail.
Profit and prosper with the best of expert advice - straight to your e-mail.
My adventures in child care story
I know all too well the struggle with the juggle. My kids were 28 months apart and my husband traveled a lot, so we got a nanny. It was expensive, but it provided peace of mind. The nanny was an extension of our family, and my children learned Indonesian, their dad's native language.
When my kids were old enough for pre-school, they attended a cooperative nursery school. With a co-op, there is a teacher, assistant teacher and a parent volunteer every day. Not only did we save money on pre-school tuition, it was an enriching and rewarding experience. Please don't laugh, but here in the Washington, D.C., metro area, pre-school is actually more than in-state college tuition at the flagship institution University of Maryland, College Park.
Later on we turned to Grandma and Grandpa for help. Monday was Grandparents Day for my son, while Wednesday was Grandparents Day for my daughter. My parents and children alike cherished this special time together.
Cut back on costs, not care
Coming up with a strategy for quality child care arrangements at a price you can live with involves coordination of schedules and tax benefits. It takes a village, but there are ways to make it more affordable without compromising safety or well-being.
Each parent could consider asking for a four-day workweek and/or the ability to work from home. This means only having to pay for three or four days of child care instead of five.
Parents should look to see if day cares offer a price reduction in the event a child is not there. Also look into trimming costs such as meal costs if your child is only there part-time.
They could create a group with trusted friends and family members to take turns babysitting for each other's children. Meet each week either in person or by phone conference to discuss issues or concerns. A small fee could be collected to pay for gas and other items needed to watch the kids.
Take advantage of tax breaks on expenses
Many companies offer a benefit called a flexible spending account, which allows employees to put money from their paychecks into a type of savings account. The account is used to pay for out-of-pocket expenses, such as health and dental care … and child care. As an employee, you don't pay taxes on the money in the account.
According to the Institute on Taxation and Economic Policy, almost half of the states offer some variation of a state income tax break for families with dependent care expenses. Of those, the majority (22 states and the District of Columbia) model their state credit after the federal credit.
The Internal Revenue Service maintains that if you paid someone to take care of your child, spouse or dependent last year, you may be able to claim the Child and Dependent Care Tax Credit on your federal income tax return. The CDCTC provides a credit worth 20% to 35% of child care costs, up to $3,000 per individual, for a child under age 13 or any dependent who is physically or mentally incapable of self-care. Eligible child care expenses are limited to $6,000 per family. The child care must be necessary in order for you and/or your spouse to work or find work or go to school.
Other options
If day care is not for you, there are other methods of child care you could consider.
Babysitter. Many college-age students do this to help pay for their education. According to compensation analyst PayScale, most babysitters now make $10 to $15 per hour. If the kids are in school, you would only need a babysitter to get the kids off to school and watch them for a few hours after school.
Shared nanny. Similar to creating a group of babysitters, families could share a nanny. I knew of a family who shared a nanny. Monday/Wednesday/Friday for one family and Tuesday/ Thursday for another. The parents in each family worked from home one day per week. There was lots of coordination involved, but they made it work. The nanny was able to secure full-time hours, and the families had the opportunity to share costs.
Au pair. An au pair is a caregiver from abroad who provides a unique cultural experience and has a live-in option. The U.S. State Department regulates all au pair agencies. The typical wage is about $7 per hour, more in affluent areas.
Job prospects. A couple could use creative measures to make sure one parent is always home with the kids. One parent could work a flex schedule or work from home. This can help cut down on costs for a babysitter and/or day care. Some parents may work opposite shifts from their significant other.
Stay-at-home option. If none of the other options are working out, one last possibility to consider is old-school: Have only one parent work in the household. If you can afford it, of course.
Hard-working parents shouldn't have to agonize over making a living and trying to find care for their children. Using research and asking other parents for advice will help find ways to cut some corners so you can have the best of both worlds.
This article was written by and presents the views of our contributing adviser, not the Kiplinger editorial staff. You can check adviser records with the SEC or with FINRA.
CEO, Blue Ocean Global Wealth
Marguerita M. Cheng is the Chief Executive Officer at Blue Ocean Global Wealth (opens in new tab). She is a CFP® professional, a Chartered Retirement Planning Counselor℠, Retirement Income Certified Professional and a Certified Divorce Financial Analyst. She helps educate the public, policymakers and media about the benefits of competent, ethical financial planning.