How to Search for Old Savings Bonds
If you lost track of U.S. savings bonds purchased decades ago for you when you were a child, the Treasury Department can help you find them.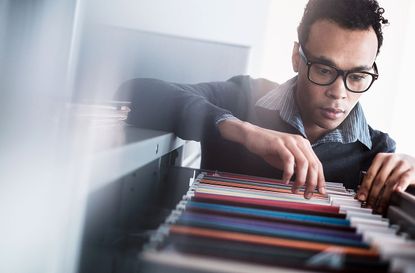 (Image credit: Getty Images)
Question: My grandfather and father passed away when I was 8 years old. I heard they had savings bonds for me. I'm 37 now and have no one left to ask about it. How do I find out if there really are any savings bonds for me, and how do I go about finding them?
Answer: The best way to search for old savings bonds is to fill out Form 1048, Claim for Lost, Stolen or Destroyed U.S. Savings Bonds (opens in new tab), with as much information as possible. (The government's Treasury Hunt tool used to be a good resource for tracking down information about Series E bonds issued since 1974. But the Treasury Department recently discontinued that tool, and it didn't include information about older bonds or other types of savings bonds.)
You likely won't be able to provide all of the information requested on the form, such as the serial numbers of the bonds, but answer as many of the questions as you can, says Brad Benson, public affairs specialist with the Treasury Department's Bureau of the Fiscal Service, which runs the savings bond program. "The most relevant information will be the name the bond was purchased under, the Social Security number and the address. And the approximate dates of the bonds will help, too," he says. "Any information you can provide will help, even though it might not fit neatly on the form."
Subscribe to Kiplinger's Personal Finance
Be a smarter, better informed investor.
Save up to 74%
Sign up for Kiplinger's Free E-Newsletters
Profit and prosper with the best of expert advice on investing, taxes, retirement, personal finance and more - straight to your e-mail.
Profit and prosper with the best of expert advice - straight to your e-mail.
Benson recommends including your own Social Security number as well as the names and Social Security numbers of your father and grandfather, or anyone whose name the bond may have been purchased under (such as your mother or guardian). Some people purchase bonds under their own name, address and Social Security number and have them payable on death to a child or grandchild. Others know the Social Security number and address of the child or grandchild, so they purchase the bonds under the child's name and information. You won't know the specific dates of the bonds, so a suspected range of dates is probably the best you can do. For the address, give any addresses that may have been used when the bonds were purchased, says Benson.
For more information about the procedures, see TreasuryDirect's Replacing or Reissuing a Paper EE Bond page (opens in new tab) or Reissuing or Replacing Series HH or Series H Savings Bonds (opens in new tab). For more information about when the different types of savings bonds were issued and whether or not they may still be earning interest, see Treasury Securities That Have Stopped Earning Interest (opens in new tab) and the History of the Savings Bonds Program table (opens in new tab).
Contributing Editor, Kiplinger's Personal Finance
As the "Ask Kim" columnist for Kiplinger's Personal Finance, Lankford receives hundreds of personal finance questions from readers every month. She is the author of Rescue Your Financial Life (McGraw-Hill, 2003), The Insurance Maze: How You Can Save Money on Insurance -- and Still Get the Coverage You Need (Kaplan, 2006), Kiplinger's Ask Kim for Money Smart Solutions (Kaplan, 2007) and The Kiplinger/BBB Personal Finance Guide for Military Families. She is frequently featured as a financial expert on television and radio, including NBC's Today Show, CNN, CNBC and National Public Radio.