How to Support a Caregiver
When you spend time, money and emotional capital providing care, you don't have to go it alone.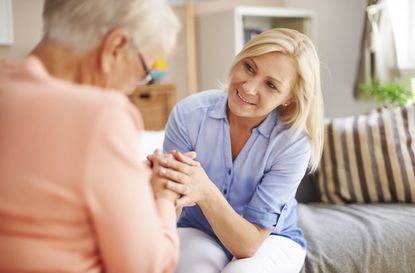 (Image credit: Getty Images/iStockphoto)
It's an act of love, a lesson in crisis management, a stress on finances and often a years-long slog. Over a recent 12-month period, more than 43 million adults provided care for a vulnerable family member or friend, according to the National Alliance for Caregiving and the AARP Public Policy Institute. The contribution to family and society is staggering. A Rand Corp. report puts the annual value of unpaid caregiving just for the elderly at $522 billion—-more than the amount it would take to retire the 2015 federal deficit.
Not only do caregivers provide mostly free care, but they also often sacrifice their own financial security in the process. The majority of care­givers are women, and for them, the total cost of caregiving amounts to an average of $324,040, according to a study of caregiving costs by MetLife. That figure reflects $142,690 in forgone wages, $131,350 in lost Social Security benefits and $50,000 in reduced pension benefits. It does not reflect forfeited career opportunities, nor does it include the expenses caregivers cover out of pocket, which can add up to several thousand dollars or more a year.
For all their efforts, most people don't identify themselves as caregivers, says John Schall, CEO of the Caregiver Action Network, an advocacy group. "They think it's just something you do as family, so they have no way of knowing there are resources for them." But caregiving doesn't have to be a solo enterprise. If you're spending time, money and emotional capital providing care, here's how to find help.
Subscribe to Kiplinger's Personal Finance
Be a smarter, better informed investor.
Save up to 74%
Sign up for Kiplinger's Free E-Newsletters
Profit and prosper with the best of expert advice on investing, taxes, retirement, personal finance and more - straight to your e-mail.
Profit and prosper with the best of expert advice - straight to your e-mail.
Enlist the family
You'd think that the more siblings you have, the more help you'd get when Mom or Dad needs assistance. But the job of caregiving often falls on the child who lives closest to the parent or on the child who is single. "One person always does more," says Cindy Hounsell, president of the Women's Institute for a Secure Retirement. Daughters are more likely to provide basic care, according to the MetLife study, whereas sons tend to contribute financial support. Either way, rather than carrying the load single-handedly, says Hounsell, discuss roles with your siblings as soon as you realize that your parent or elderly relative needs help.
One way to get everyone on the same page is to set up a family meeting—-by Skype, FaceTime or conference call, if necessary—-and have a social worker, mediator or care manager facilitate the discussion. A neutral party can identify assignments each of you can take on (say, regular visits by the sibling who lives nearby and bill paying by the one who lives in another state) and help the family navigate emotions that often arise when ailing parents are involved. "It's really hard for some families to come to terms with the fact that they're going to have to step up," says Leah Eskenazi, director of operations and planning at the Family Caregiver Alliance.
At the meeting, discuss how caregiving and related expenses will be covered. Treat the matter as a business proposition, says Hounsell. "Say, 'You want someone to take care of Mom. This is what it costs, and we're all going to have to share in those costs.' " If you're the primary caregiver, your family might agree to pay you as an independent contractor. In that case, it's good to have a formal contract, known as a personal care agreement, to spell out the terms of the arrangement. (For information on how to draw up a contract, see "Financial Steps for Care­givers," at www.wiserwomen.org.)
Or your parent might compensate you, either from income and savings or by adjusting his or her estate plan to give you a bigger share. Whatever the plan, "get buy-in from your siblings from the beginning," says Melissa Rowley of Chicago, who managed the care for both of her parents and has been involved in a family dispute over how the finances were handled.
Meet with your parents while they are still healthy to discuss their ex­pectations for later care and how they plan to pay for it, says Randi Merel, a senior financial adviser at Merrill Lynch. After having that conversation, the children of one of her clients arranged to help pay for his long-term-care insurance. "If you do it before someone is ill, it's a much easier dialogue," says Merel. "You make better decisions." As for Rowley, she says she's angry with her parents for not spelling out the caregiving arrangements up front "because it gets ugly. There's never a clear winner."
Line up resources
Even with the help of siblings, you may need more boots on the ground—say, someone to drop by your parent's place to fix meals or to provide transportation. To find help in your community, contact your local area agency on aging through the Eldercare Locator (800-677-1116). Such agencies provide direct support to caregivers, including respite care (usually on a limited basis), counseling and emergency assistance. They can also connect you with local providers for such services as home-delivered meals, transportation and help with chores.
Some of these services may be free. For instance, at Lotsa Helping Hands, you can post requests for help and get matched up with volunteers.
If a volunteer isn't available, check out caregiving agencies, such as Home Instead Senior Care. Home Instead's 611 U.S. franchises offer in-home care, including meal preparation, errand-running and housekeeping, generally for about $18 to $24 an hour. (You can also find nonmedical caregivers in your area by using the search tools at www.care.com and www.caring.com.) Homemaker services run a median $20 an hour, according to Genworth's 2015 Cost of Care survey.
If you need a supervised setting for your relative while you're at work or so you can take a break, investigate adult day care. Such facilities offer meals, supervised outings, social activities and sometimes health services. The median daily rate is $69.
Consider hiring a geriatric care manager if your parent has complicated needs or lives in another state. Such professionals, who often have a background in nursing or social work, can assess your parent's situation, put together a care plan and help you execute it, and keep you and other family members in the loop. Fees range from $300 to $800 for an initial assessment and $100 to $200 an hour for care management, according to the Aging Life Care Association (formerly the National Association of Professional Geriatric Care Managers). You can find a geriatric care manager in your area by using the search tool at www.aginglifecare.org.
If you need help resolving family differences involving caregiving, find a mediator through www.mediation.org, a division of the American Arbitration Association. To find social workers who specialize in family and caregiving issues, use the HelpPro Social Worker Finder, at www.helppro.com.
Medicare does not pay for personal or homemaking care, but it does cover home health care for people who are homebound and intermittently need skilled nursing or physical or occupational therapy. The services must be part of a plan established and reviewed by a doctor, and they must be provided through a Medicare-certified home health agency. For details, see www.medicare.gov/coverage/home-health-services.html.
Medicaid, run by the states, will pay for personal and homemaker services, as well as adult day care, but only for care recipients whose income and assets fall under state limits (eligibility rules and covered services vary by state). Most states also have programs, including Medicaid, in which eligible care recipients are given a budget from which they can pay caregivers of their choice, including family members. See the National Resource Center for Participant-Directed Services, at www.bc.edu/schools/gssw/nrcpds.
Long-term-care insurance also pays for in-home care. You may have to wait up to 120 days, depending on the policy, before coverage kicks in. Be prepared to jump through hoops—such as providing documentation from a doctor that your family member needs the care—when you submit claims.
Talk to your boss
Your ability to juggle caregiving and your day job successfully could depend on your boss. A 2014 survey conducted for the Families and Work Institute shows that half of those who left their jobs to provide elder care did so because their employers weren't flexible enough to accommodate their dual responsibilities—say, by letting them telecommute or work an earlier or later shift. For their part, employees are reluctant to raise an issue that might be perceived as affecting their work performance, says Ken Matos, senior director of research at the institute. "They don't want to reveal their situation and don't think there's anything their employer can do about it."
Recently, however, some employers have initiated programs that educate employees on elder-care resources and create a more receptive atmosphere for discussing work accommodations, such as job sharing. "Large businesses have realized it is more costly to them if they lose employees who are caregivers and have to hire and train new employees. It's only a tiny crack in the wall, but it has begun," says Schall, of the Caregiver Action Network. If your company has no such program and you need to ask for flexibility, frame it in a problem-solving way, says Matos: "Approach your employer not by saying 'I'm not meeting goals' but 'I'm planning ahead to meet my goals.' "
Under the Family and Medical Leave Act, companies with 50 or more employees must allow up to 12 weeks a year of unpaid leave for workers who are caring for a newborn or an ailing family member. California is among a handful of states that go a step further by requiring employers to offer eligible employees up to six weeks of paid leave a year, at 55% of their wages, to care for a seriously ill family member.
Often, the stress of working a full-time job while caring for an elderly relative can feel overwhelming, even with a supportive employer. If you're considering quitting your job, try to work at least long enough to vest in your pension or 401(k) plan (which may require vesting for employer contributions) or to accumulate enough credits to qualify for Social Security. And prepare a budget for paying expenses after you leave your job, says Schall. His advice: Rather than quit altogether, switch to part-time status. Be sure to find out how cutting your hours might affect your benefits, such as your pension or health insurance.

Senior Editor, Kiplinger's Personal Finance
The late Jane Bennett Clark, who passed away in March 2017, covered all facets of retirement and wrote a bimonthly column that took a fresh, sometimes provocative look at ways to approach life after a career. She also oversaw the annual Kiplinger rankings for best values in public and private colleges and universities and spearheaded the annual "Best Cities" feature. Clark graduated from Northwestern University.