How to Pass Down a Vacation Home
Make a detailed plan for the home's future to avoid family feuds down the road.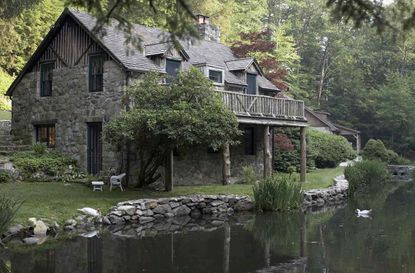 (Image credit: (c) Kim Carson)
Betsy Fisher and her two brothers inherited their parents' vacation cottage on Michigan's Big Glen Lake 12 years ago after their father died. They love the place, and they remember with fondness the picnics, the sailing and other summertime moments with their parents, each other and their cousins.
Now they have their own children -- a total of 10 teens and young adults -- who also savor visits to the four-bedroom cedar home. "It brings back all these yummy memories of being a kid, playing in the yard and going fishing with Grandpa," Fisher says.
The three siblings are determined to keep the cottage in the family for years to come. This summer, they took extra time to discuss the short- and long-term needs of the cottage. "There's a bit of tension you feel through this process," says Fisher, age 62. She expects they will iron out any disagreements because they all love the cottage. "We want it to work," she says.
Subscribe to Kiplinger's Personal Finance
Be a smarter, better informed investor.
Save up to 74%
Sign up for Kiplinger's Free E-Newsletters
Profit and prosper with the best of Kiplinger's expert advice on investing, taxes, retirement, personal finance and more - straight to your e-mail.
Profit and prosper with the best of Kiplinger's expert advice - straight to your e-mail.
Vacation homes may create beautiful memories. But if you're not careful, they can lead to battles over the cottage's future as well as feuds over who stays during prime weeks and who pays for new plumbing.
These family disputes could rise over the next years. The number of vacation homes grew by 27.7% from 2000 to 2010 -- or 1 million new cabins and cottages, according to the U.S. Census Bureau. The largest numbers are in Florida, California, New York and Michigan.
The biggest mistake owners can make is to fail to make a detailed plan for the home's future, says Wendy Goffe, an estate-planning lawyer in Seattle who has helped dozens of vacation homeowners. "Too many people say, 'I don't care. I won't be here. They can work it out for themselves.' That very rarely leads to a positive outcome," Goffe says.
It's best if the owners sit down with their adult children and their children's spouses to create a plan for either keeping the vacation house in the family or selling it, says Stacy Allred, director of Merrill Lynch's wealth structuring group. Families could seek the help of a third party, perhaps a financial planner or estate-planning lawyer, to help develop ideas and plans.
Unfortunately for Betsy Fisher and her brothers, their father died before working out a long-term plan for the lakefront cottage. Betsy's husband, Mark, 62, says the siblings had to make "decisions by committee" as they were grieving. They've tentatively decided that, for logistical reasons, not all of their children will inherit the cottage, but they still need to figure out many details regarding the ownership structure, says Betsy Fisher.
Sometimes it makes the most sense to sell the property. The adult children may not be able to afford the taxes, maintenance and travel to the house. Allred recalls one family that sold their vacation home in Vail, Colo., because taxes soared on the appreciated property.
Mark Fisher, who is a real estate agent in Glen Arbor, Mich., says the rise in property values has prompted sales by families who need cash. He helped one family sell a cabin that had been in their family since 1929. "They had to sell it. They needed the money to pay for Mom's long-term care," he says.
Put All the Details in Writing
If you decide to keep the house, a written plan should outline how to pay for expenses, including repairs, insurance and taxes. Often, family members annually pay into an account that pays for cleaning and other maintenance costs. Or family members will pay for costs for the weeks they use the home.
The family needs to decide what to do if one member can't afford his or her share of expenses. A sibling who has much more money than another -- an investment banker versus an artist -- could create a fund for repairs and upkeep. One sibling may take on extra responsibilities in lieu of paying for some repairs. Some parents set up trusts with stocks to pay for future upkeep. Betsy Fisher and her brothers rent out their log cabin for part of the summer and fall, and the $3,000 to $4,000 a week they get in rent covers many expenses.
What if one of the heirs doesn't want the house? Perhaps the owners could leave that family member other assets in the estate, Allred says.
Family members also need to develop ways to reduce tensions over the time they spend on maintenance. "Everybody feels like they've put more into it than they've gotten out of it," Goffe says. "I've heard countless stories: 'We showed up and a pipe burst, and I spent the rest of the weekend waiting for a plumber.' "
Some families set up a rotation for maintenance work so there's a sense of fairness and "an infusion of new ideas," says Michael Liersch, Merrill Lynch's head of behavioral finance. Hiring a cleaning service or property manager can reduce resentments. Also consider giving the sibling who serves as the primary caretaker a small bonus, such as extra weeks in the vacation home or a discount on maintenance fees.
Family members also need to figure out when each member will use the property. Betsy Fisher handles the calendar. One brother who lives in Minnesota gets first choice for a summer week. Then her other brother who lives nearby selects a week, and a cousin from California and the Fishers each pick a week.
One important part of a plan is deciding how to transfer the property to future generations. You should check with an estate-planning lawyer to figure out the gift- and estate-tax implications of a transfer.
A common way to transfer ownership is to set up a limited liability company or a family limited partnership, which would own the property. Rather than transfer real estate to your children directly, you would give gifts of membership shares to them. You can give shares worth up to $14,000 ($28,000 from you and your spouse) to each family member each year without having to file a gift-tax return, thus reducing the size of your taxable estate.
The operating agreement could cover scheduling, maintenance and fees. "You can put all kinds of guidelines" into the document, Goffe says. Because the individual family members don't own the property, the agreement could prevent a forced sale of the house if one member wants out. It can establish buyout terms for the other family members.
Before making any decisions, you can stress test your family plan. Allred says one family invented a fictional family member, a real troublemaker. Then through their discussions, the family would bring up this fictional fellow and say, " 'What if they do that?' It was fun. And it allowed them to think through everything," she says.