How to Shop for an Immediate Annuity
These annuities guarantee steady retirement income for life, but just how much you collect depends on your age when you invest.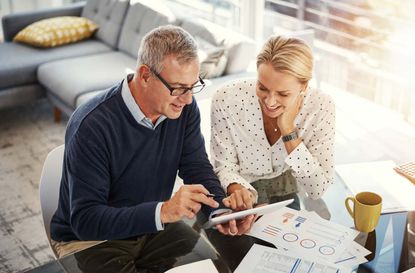 (Image credit: PeopleImages.com - #1585908)
Annuities come in all shapes and sizes—some with complex calculations that try to do a little bit of everything, often with high fees. But immediate annuities are simple: You hand over a lump sum to an insurance company, and they promise to pay you a fixed amount every month or year for the rest of your life.
"It's the purest form of guaranteed income," says Rob Williams, managing director of financial planning at Charles Schwab. "It's the [option] most like purchasing your own pension. If you want to maximize the guaranteed payment you're getting, the single-premium immediate annuity is the place to look."
For people who have little or no pension, an immediate annuity can provide a stable paycheck to cover their essential expenses every month, and it provides guaranteed income they can't outlive.
Subscribe to Kiplinger's Personal Finance
Be a smarter, better informed investor.
Save up to 74%
Sign up for Kiplinger's Free E-Newsletters
Profit and prosper with the best of expert advice on investing, taxes, retirement, personal finance and more - straight to your e-mail.
Profit and prosper with the best of expert advice - straight to your e-mail.
"People who were in their mid to late fifties in 2008 remember the downturn, and now they're in their mid to late sixties and about to retire, and they want some kind of guarantee," says Michael Bartlow, a financial-planning adviser with VALIC Financial Advisors, in Houston. "They typically don't want to rely on the 4% rule of thumb for all of their income needs."
But the stability also has its downsides. You usually can't touch the lump sum after you buy the immediate annuity, and your payouts typically remain the same for the rest of your life—even though inflation may erode your purchasing power. That's why it's important to carefully calculate how much to invest in the immediate annuity—and whether you need one at all.
To do this analysis, financial advisers start by looking at your cash flow in retirement. "We break it down into essential and discretionary needs," says Bartlow. "We list the essential income needs, such as property tax, mortgage, food, clothing and other bills." Also consider other expenses you pay every month or year, such as insurance premiums, out-of-pocket health-care or prescription-drug costs, and transportation expenses.
Then add up any sources of guaranteed income you have coming in, such as Social Security or a pension, and determine if there's a gap between your essential needs and your guaranteed income. "The immediate annuity can provide a floor" for essential needs, says Bartlow. Some people choose to invest a portion of their savings in the immediate annuity to fill in that gap, while others he works with decide to just withdraw money from their portfolio on their own to cover those essential costs—at least in the beginning.
But those retirees may end up buying an immediate annuity when they're in their early to mid seventies—when the annuity payouts are higher and they're ready to dial down their investment risk. "You'll see many investors who are used to investing in stocks, but then at 65 or 70 [find it] might be the right time to look at a fixed immediate annuity to reduce risk," says Williams.
Having enough money from guaranteed income sources to cover their essential expenses, though, makes some people feel more comfortable with investing the rest of their savings more aggressively for the long run. "Having Social Security and guaranteed income from an annuity or pension may free you up to be a little more confident that you're not going to have to tap those assets in a down market," Williams says.
The immediate annuity can also provide lifetime income for a specific need. Mike Helveston, director of adviser services for Rodgers & Associates in Lancaster, Pa., recently worked with a client who bought an immediate annuity to cover the mortgage and other expenses on a second home for life. "They know that it's taken care of and don't have to worry about it," he says.
The Buyer's Age Matters
The longer you can wait to buy the immediate annuity, the higher your annual payouts will be. "The sweet spot for the immediate annuity is the early to mid seventies," says Williams. The average immediate annuity buyer at New York Life is age 71 and typically uses 20% to 30% of his or her assets to buy an income annuity, says Dylan Huang, senior vice president and head of retail annuities for New York Life.
A 65-year-old man who invests $100,000 in an immediate annuity can currently get about $6,700 per year in payouts for as long as he lives, according to ImmediateAnnuities.com (opens in new tab). A 70-year-old man could get about $7,600 per year, while a 75-year-old man can get about $9,300 per year.
Waiting until your seventies to buy an immediate annuity also gives you access to your portfolio for longer, but as you age, you may want to spend less time deciding which investments to tap for income. "Ongoing portfolio management is something that retirees typically don't want to continue to engage in or manage, especially in the more advanced ages," says Huang.
Be realistic about your life expectancy before buying an immediate annuity. The longer you live, the more payouts you'll receive. You receive the largest amount each year with a life-only annuity, which stops payouts when you die. But if you're married, your spouse may still need lifetime income. If the 70-year-old man opts to include his spouse, the couple will get about $6,300 per year as long as either spouse lives, rather than $7,600 if the annuity covers only his life. That drops to about $6,100 a year for joint-life payouts with a cash refund (which pays their beneficiaries if they both die before their payouts equal the amount they invested).
Some insurers offer immediate annuities with a cost-of-living adjustment to keep up with inflation (either based on the consumer price index or a fixed 2% or 3% per year). But fewer than 5% of buyers select this option because the initial payouts are so much less—about 38% per year lower at age 65—and you generally don't break even until you live beyond your life expectancy, says Hersh Stern, who runs ImmediateAnnuities.com and publishes Annuity Shopper Magazine.
Instead, some people boost their guaranteed income by laddering immediate annuities and investing more money every few years. The annual payouts will be larger with each annuity purchase because of age, and payouts may also be higher if interest rates have risen.
Laddering immediate annuities can also diversify payouts among a few insurance companies. You're counting on the annuity to pay out for the rest of your life, which could be 20 or 30 years. Picking a company with a solid financial-strength rating is essential. Charles Schwab's online marketplace of immediate annuities only includes insurers rated A or better.
Stern says that there's enough competition among highly rated insurers that you'll generally find several insurers with A+ ratings among the highest payouts. Because fixed-payout immediate annuities are so simple to compare, you can choose the annuity based on the payout alone, after you've narrowed the list to highly rated insurers. You can compare payouts at ImmediateAnnuities.com or at Schwab's immediate-annuity marketplace (opens in new tab), or contact insurers directly.
Contributing Editor, Kiplinger's Personal Finance
As the "Ask Kim" columnist for Kiplinger's Personal Finance, Lankford receives hundreds of personal finance questions from readers every month. She is the author of Rescue Your Financial Life (McGraw-Hill, 2003), The Insurance Maze: How You Can Save Money on Insurance -- and Still Get the Coverage You Need (Kaplan, 2006), Kiplinger's Ask Kim for Money Smart Solutions (Kaplan, 2007) and The Kiplinger/BBB Personal Finance Guide for Military Families. She is frequently featured as a financial expert on television and radio, including NBC's Today Show, CNN, CNBC and National Public Radio.