How to Choose the Right Medical Specialist
Why it's important to ask the right questions, check credentials.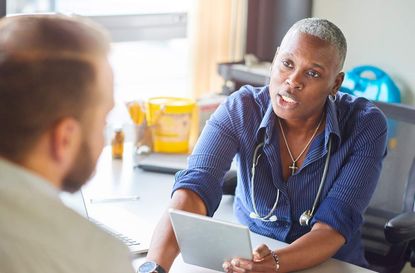 (Image credit: sturti)
You'd think people would put as much time and energy (if not more) into finding the right specialist as they devote to buying a new car or choosing a vacation destination. But few folks do, says John Connolly, a cofounder of Castle Connolly Medical, a physician-screening company that also publishes America's Top Doctors. "They just look for doctors in their plan and pick one." But it only takes a little work to find a specialist who has the best shot at producing the results you want.
Start by asking your primary care doctor for recommendations. Print out a list of your insurance plan's in-network specialists in advance, and get your doctor's thoughts on those names. Then ask some probing questions: Why do you recommend that specialist? (Maybe the doctor is a personal friend or practices at a good hospital. In any case, you should know the reason.) How well do you know the specialist, and have you referred the specialist to others? If your primary care doctor can't recommend anyone, ask other physicians who care for you for suggestions, or ask friends and family.
Check the credentials. Once you have narrowed the list to a name or two, take a closer look at each physician's qualifications and training. Specifically, is the doctor board-certified in the specialty you seek? That matters, because anyone with a state-issued medical license can call himself an orthopedist, say, or a gynecologist. But board certification signifies that a doctor has completed at least four years of medical school, completed a three- to five-year residency, and passed an exam. A board-certified subspecialist--a gynecologic oncologist, for example--has also undergone a one- to five-year fellowship in that subject and passed a written exam and perhaps an oral test, too. "Certification may not guarantee a great doctor, but it guarantees he or she has been trained in that specialty," says Connolly.
Subscribe to Kiplinger's Personal Finance
Be a smarter, better informed investor.
Save up to 74%
Sign up for Kiplinger's Free E-Newsletters
Profit and prosper with the best of expert advice on investing, taxes, retirement, personal finance and more - straight to your e-mail.
Profit and prosper with the best of expert advice - straight to your e-mail.
You can check on a doctor's certification status at www.certificationmatters.org, which is maintained by the American Board of Medical Specialties. The ABMS recognizes 37 specialties and 86 subspecialties. Also find out whether the doctor participates in continuing education to maintain expertise in his specialty, as most do.
To round out your library research, go online and check where the doctors you're considering went to medical school and did their residency. Are the institutions well known? The best residency programs tend to attract the most-qualified medical school graduates, says Lois Margaret Nora, president and CEO of the ABMS. Finally, has the doctor ever faced a disciplinary action in the state in which he practices? You can search for that information, as well as school, training and board-certification status, at www.castleconnolly.com/ddi.
Once you've selected the best candidate, make an appointment and see how the specialist communicates with you. We're not talking about bedside manner or even whether you like her, which matters less with a specialist you'll see a handful of times than with a primary care doctor you might see on a regular basis. Focus on whether you have con­fidence and trust in the doctor, says Nora. Don't be afraid to ask questions: How many other patients like me (same age group, with similar symptoms) have you seen over the past year? How many procedures like mine have you performed over that time? What kinds of outcomes did your patients have? Were there any complications, and if so, how many? Vague answers--such as "I see few complications"--or no responses at all are red flags. You want to be sure the specialist has extensive experience with cases like yours, with a history of good results and no black marks on his record. "It's not just about identifying an excellent physician," says Connolly. "It's about avoiding the really poor ones, too."

Senior Associate Editor, Kiplinger's Personal Finance
Nellie joined Kiplinger in August 2011 after a seven-year stint in Hong Kong. There, she worked for the Wall Street Journal Asia, where as lifestyle editor, she launched and edited Scene Asia, an online guide to food, wine, entertainment and the arts in Asia. Prior to that, she was an editor at Weekend Journal, the Friday lifestyle section of the Wall Street Journal Asia. Kiplinger isn't Nellie's first foray into personal finance: She has also worked at SmartMoney (rising from fact-checker to senior writer), and she was a senior editor at Money.